Leader of USS Fitzgerald Review to Head Pacific Command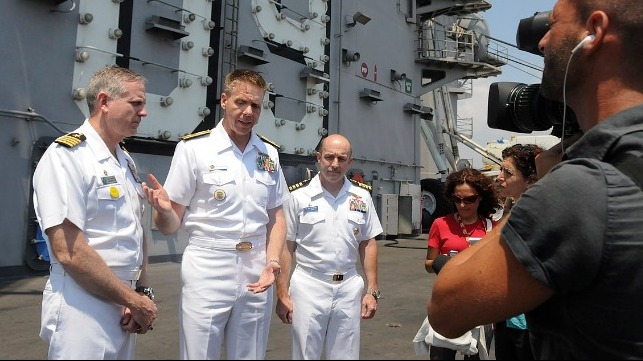 Admiral Philip Davidson, the commander of the U.S. Navy's Fleet Forces Command, has been nominated to lead all U.S. forces in the Pacific theater. Secretary of Defense Jim Mattis announced Tuesday evening that Davidson will be nominated to succeed outgoing PACOM Commander Adm. Harry Harris, an outspoken Navy flyer who is set to be the next U.S. ambassador to Australia.
Among other duties at Fleet Forces Command, Davidson is the Navy's designated advocate for fleet personnel, training, requirements, maintenance, and operational issues. The command's Maritime Operations directorate is responsible for all unit pre-deployment preparations, including joint and fleet training.
Readiness has become a key issue for the Navy following the deadly collisions involving the destroyers USS John S. McCain and USS Fitzgerald last year. Before the collisions, the Defense Department was widely expected to nominate Pacific Fleet commander Adm. Scott Swift to replace Harris. However, Swift was passed over in the wake of a review that found widespread training, manning and leadership shortcomings at 7th Fleet prior to the collisions.
The review - headed by Adm. Davidson - concluded that the vessels' sustained, high-tempo operations had eroded readiness, slowly and "insidiously," to the point that slim safety margins became normal. Both vessels had missing certifications for key competencies, and previous reports by the Government Accountability Office suggested that this was a common pattern at 7th Fleet.
After the review was published, Adm. Davidson told sailors that the Navy would solve the problem. "Trust me . . . we're going to get after this. There's no doubt about it," he said in a speech at this year's Surface Warfare Association symposium. "There's a lot of energy and effort and money going into this to get this solved."
Adm. Harry Harris, the outgoing PACOM commander, made his mark with an assertive, blunt style. He was an advocate of the Navy's freedom of navigation operations in the South China Sea and a prominent critic of Chinese ambitions. "China has taken advantage of our openness . . . to continue the path that they've always been on and we're seeing that play out now in 2018," he told a Senate panel last month. "Certainly over the next 20 years or so that will be a concern." Adm. Harris also predicted that Chinese militarization in the South China Sea was as "certain as a traffic jam in D.C.," an intention that China has since acknowledged.