Kiel to Build Second Cruise Passenger Terminal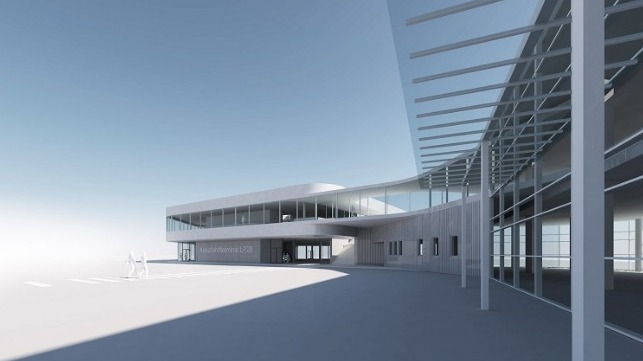 A second cruise passenger terminal is being built at Kiel's Ostseekai Cruise Shipping Terminal in Germany.
An artist's impression of the new building was made public this month, and construction work is expected to begin in August this year. It is expected to be operational next spring at the start of the 2019 cruise shipping season. The Port of Kiel is investing about €7.5 million ($9 million) in the project.
Planned is a 3,700 m² two-storey terminal building designed by eins:eins architects Hillenkamp & Roselius. The new structure will be built as an integrated northern extension of the existing terminal building with connections on both levels. Structurally, the two buildings create a V-shaped reception area for arriving visitors. From here, travelers can enter the terminal itself while visitors are led up an outside flight of stairs to a generously-sized viewing terrace.
Functionally, the new building is part of the existing terminal. Baggage handling will take place on the ground floor, and the upper floor will be reserved for passengers and check-in procedures. From here, travelers will be conducted directly across a gangway and onto the ship.
Dr. Dirk Claus, Managing Director of the Port of Kiel (Seehafen Kiel GmbH & Co. KG), said: "We are taking a great leap forward against a background of ever more visits by cruise ships and increases in the sizes of those ships. A terminal for every ship berth means the best possible service for shipping companies and passengers."
The Port of Kiel is one of the leading passenger ports in northern Europe. Three modern passenger terminals are available in close proximity to the city center for ferry and cruise ships - at the Ostseekai, Norwegenkai and Schwedenkai. In addition, ships are able to tie up at the Berth 1 cruise shipping terminal in the Ostuferhafen. Kiel is also linked by daily ferry shipping services to and from the Norwegian capital Oslo (Color Line), Gothenburg (Stena Line), and Klaipeda (DFDS).
During this year's cruise shipping season, commencing in April, 166 visits by 32 different cruise ships are planned. The port expects 600,000 cruise passengers, up 17 percent of last year. The total tonnage of the ships will exceed 11 million GT for the first time. The most frequent visitors ships from cruise lines AIDA/Costa, TUI Cruises and MSC, which together account for two thirds of all the ship visits. The biggest ship of the season will be the MSC Preziosa at 139,000 GT, which will make its maiden visit to the Ostseekai Cruise Terminal on April 28.
Although Kiel is predominantly a start and end port for Baltic cruises, it also expects 23 visits this year by ships on running cruises, whose international passengers will visit Kiel and the surrounding region as well Hamburg and Lübeck.
Interest in Baltic cruises continues to rise on both the international and national markets. There are now well over two million German cruise passengers and almost one in four of them book a northern Europe trip.