John McCain Dies at 81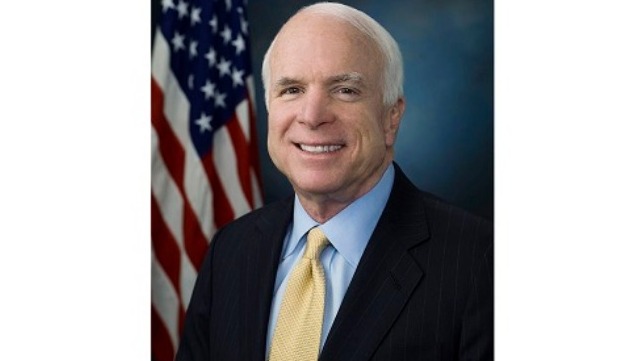 U.S. Senator and former Vietnam War POW, John McCain, died on Saturday at the age of 81.
The Republican senator had been undergoing treatment for brain cancer, and his wife Cindy and other family members were with him when he died. A statement from Senator McCain's office said: "At his death, he had served the United States of America faithfully for 60 years."
Chairman of the Joint Chiefs of Staff, Gen. Joseph F. Dunford, Jr., said: "Senator McCain exemplified what it means to be a warrior and dedicated public servant. Both as a naval officer and as a member of Congress, he was a lifelong and tireless advocate for the men and women of the U.S. military.
"He traveled the world to meet personally with Soldiers, Sailors, Airmen, Marines and Coast Guardsmen, to hear what they had to say, and to see firsthand our military in action on the front lines. Senator McCain recognized the sacrifice and hardships military members and their families can experience and proudly served as their champion in Congress. He visited our nation's wounded warriors around the country to offer encouragement and to thank them for their service. Through his tenacious and selfless leadership in the Senate, he fought hard to ensure our Armed Forces remained strong and had the support and resources needed to succeed when placed in harm's way.
"While we mourn Senator McCain's passing, we are eternally grateful for his distinguished service to our nation, his advocacy of the U.S. military, and the incredible example he set for us all."
US President Donald Trump expressed his sympathy in a tweet.

John Sidney McCain III (August 29, 1936 – August 25, 2018) graduated from the United States Naval Academy in 1958 and followed his father and grandfather, both four-star admirals, into the U.S. Navy. He became a naval aviator and flew ground-attack aircraft from aircraft carriers.
During the Vietnam War, he was almost killed in the 1967 USS Forrestal fire. While McCain was on a bombing mission over Hanoi in October 1967, he was shot down, seriously injured, and captured by the North Vietnamese. He was a prisoner of war until 1973. McCain experienced episodes of torture, and the wounds that he sustained during war left him with lifelong physical disabilities.
He retired from the Navy as a captain in 1981 and moved to Arizona, where he entered politics. In 1982, McCain was elected to the United States House of Representatives, where he served two terms. He entered the U.S. Senate in 1987 and easily won reelection five times, the last time in 2016. He was the Republican nominee for President of the United States in the 2008 election, which he lost to Barack Obama.
He was known for his work in the 1990s to restore diplomatic relations with Vietnam and for his belief that the Iraq War should have been fought to a successful conclusion.
In 2015, McCain became Chairman of the Senate Armed Services Committee. He was diagnosed with brain cancer in July 2017; following the diagnosis, he took a reduced role in the Senate. McCain's family announced on August 24, 2018, that he would no longer seek further treatment for his cancer to prolong his life. He died the next day at the age of 81, four days before his 82nd birthday.