Jaxport Expands its Cruise and Container Operations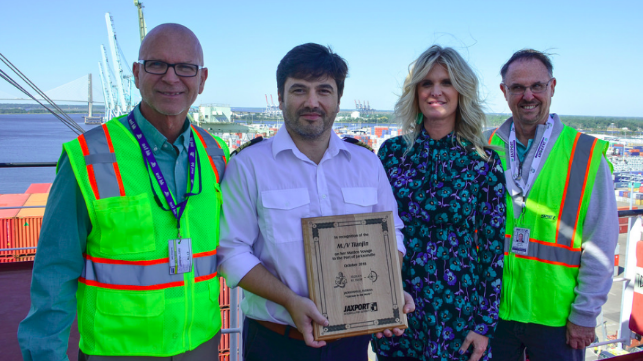 Jaxport, the port of Jacksonville, Florida, recently welcomed its first port call from Israeli ocean carrier ZIM with the arrival of the 10,000 TEU neopanamax Tianjin.
Jaxport offers worldwide cargo service from more than 40 ocean carriers, and with the addition of ZIM, ten of the world's top 11 global carriers now offer service through the port.
The new service to Jacksonville is part of ZIM's Asia to North America offerings through an agreement with the 2M alliance. The shipping line now offers direct service from Jacksonville to Kingston, Jamaica; Xingang, Qingdao, Shanghai and Ningbo in China; and Busan, South Korea.
Jaxport's Chief Commercial Officer, Kristen DeMarco, credited the port's ability to attract business to its newly-started harbor dredging project. "Ocean carriers are not waiting for the deepening project to be complete, they are investing in Jacksonville now and Northeast Florida's economy will benefit," she said in a statement. The U.S. Army Corps of Engineers recently awarded the contract for the second phase of the project as contractors continue to make progress on phase one.
Cruise business expands
Jaxport is also the home port for the Carnival Cruise Lines vessel Carnival Elation, and it served a record number of cruise passengers over the course of the past year. Nearly 200,000 people departed Jacksonville over the last 12 months, bringing the total number served over the course of the port's 15 years in the cruise business to 2.4 million.
"Cruise is a benefit to all of Jacksonville as visitors get a taste of what our region offers and then choose to return again and again," said Jaxport CEO Eric Green.
Jaxport and Carnival Cruise Line recently signed a long-term agreement to extend Carnival's cruise service from Jacksonville through 2021, and potentially through 2027. The contract includes enhancements to Jaxport's cruise terminal, including a new parking area, an upgraded VIP lounge and an improved boarding platform.