Japanese Shipbuilder Mitsui E&S Gains China Foothold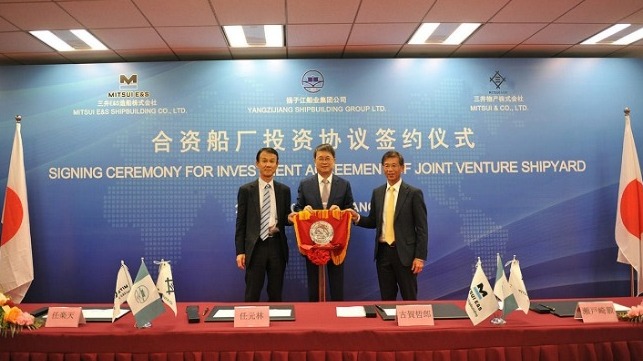 China's Yangzijiang Shipbuilding has entered into a shipbuilding joint venture with Japan's Mitsui E&S Shipbuilding and and Mitsui & Co.
The new company will aim to build a globally competitive shipbuilding business by combining Yangzijiang's high production capacity, Mitsui & Co.'s sales capabilities and Mitsui E&S' advanced technology. The new venture will be located in Jiangsu, China, and is expected to commence operation in April 2019. The joint venture will launch with $99 million in capital. Yangzijiang will hold a 51 percent stake and the rest will be divided between Mitsui E&S and trading house Mitsui & Co.
The move is a long-sought overseas foothold for Mitsui E&S, reports the Nikkei Asian Review, noting that competitor Kawasiki Heavy Industries has already formed a Chinese joint venture with positive results. Mitsui E&S also entered into a joint venture with Tsunesishi Shipbuilding in May. Tsuneishi has a shipyard in the Philippines and one in China, so this venture may also result in overseas production for the company.
The Mitsui and Yangzijiang joint venture is expected to start with the construction of bulk carriers before moving to more complex tanker newbuilds.
The shipbuilding market has suffered from intense competition for a number of years now, and Japanese yards had an all-time-low seven percent market share of orders in 2017. Labor costs in China are a third of those in Japan, reports Nikkei Asian Review.
Yangzijiang is maintaining earnings despite the tough market, said Mitsui E&S CEO Tetsuro Koga. "Bringing Japanese designs and construction technology to the partnership will let us build high-added-value vessels at low cost."
The trading house Mitsui & Co, which helped bring Mitsui E&S and Yangzijiang together, is expected to bring new customers in for the joint venture.