Japan Coast Guard Recovers One Body From Sunken Freighter Seiryu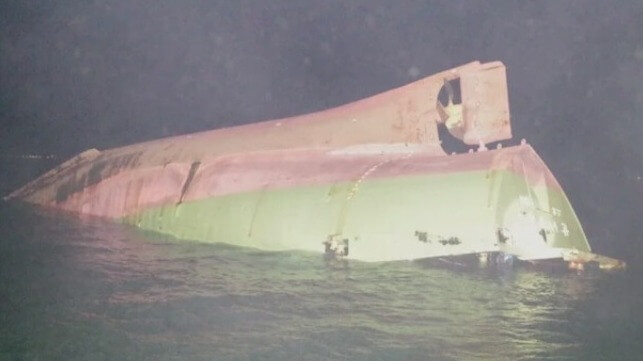 Divers have located one deceased crewmember within the wreck of the sunken freighter Seiryu, which went down in the Seto Inland Sea last week after a collision with another vessel. ds
The geared coastal freighter Seiryu collided with the smaller 1,700 dwt cargo ship Koei Maru near the northern entrance to the Kurushima Strait vessel traffic scheme on Thursday night. Both vessels sustained significant damage, and Seiryu sank. Koei Maru was able to proceed to port, and there were no injuries to the four crewmembers aboard.
Three of Seiryu's crewmembers were rescued, but the captain and the first officer remained missing. On Monday morning, rescue divers for the Japan Coast Guard found one body in the vessel's wheelhouse, about 190 feet below the surface. The Japan Coast Guard said that it was still working to confirm the identity of the remains.
The search for the second missing crewmember continues.
Kurushima Strait is a busy sea lane, and the hazards to navigation are elevated because of its powerful tidal currents. Depending on the flow of the current, the direction of traffic flow in the traffic separation scheme for the strait reverses direction (illustration below). The area has been the scene of several accidents, including a collision between a cargo ship and tanker in 2021 that resulted in three deaths.
Illustration courtesy Japan Coast Guard / Kurushima VTS Center
Sieryu was a 2,100 dwt coastal freighter built in 1997. Her design featured a lattice boom crane mounted on the bow, an unusual fixture aboard a merchant cargo ship. Neither vessel has a record of port state control inspections, indicating that they operated in domestic trades.
?????????????????????10???????????? pic.twitter.com/pLudcqzkVW

— ???? (@katsuragi0623) February 2, 2023