Italy Bars Italian OSV from Port After Migrant Rescue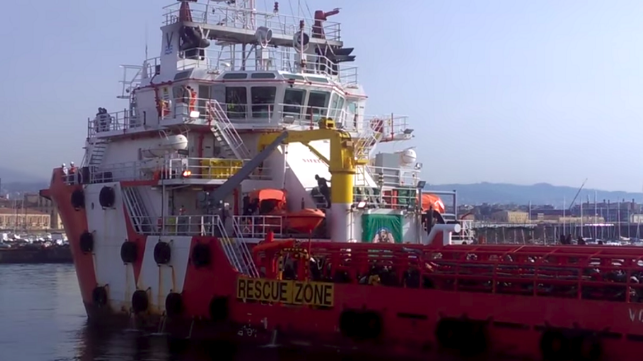 On Monday night, the offshore supply tug Vos Thalassa became the latest ship to get caught in the EU debate over maritime migration.
The Thalassa, which is under contract to support Total's offshore operations, responded to a distress call off the coast of Libya on Monday evening. She took 66 survivors on board before a Libyan Coast Guard unit out of Tripoli could arrive on scene. Shortly thereafter, Italy's interior ministry - headed by Matteo Salvini, the leader of Italy's far-right League party - announced that the government would deny the Thalassa permission to dock at an Italian port to offload the rescuees.
Over the past month, Salvini has sought to prohibit foreign flag operators - including the U.S. Navy, Maersk Line and several NGOs - from disembarking rescued maritime migrants in Sicily, where most vessels have historically sought safe harbor after rescues off Libya. He has also called for the Italian Coast Guard and Navy to ignore migrants' distress calls, and he intends to ask the European Union to divert EU warships to non-Italian ports when they need to offload survivors (below).
However, the Vos Thalassa presents a new set of circumstances: she is Italian-owned, Italian-classed and Italian-flagged, and the prohibition delayed her return to her country of registry. By virtue of her area of operation in the Central Mediterranean, she is also no stranger to migrant rescues: the Thalassa saved 212 migrants last month, and in 2017, she brought over 1,000 people on board in a single day.
[Update: In a statement Tuesday, Italian transport minister Danilo Toninelli said that the Italian Coast Guard cutter Diciotti met the Thalassa at sea and accepted the survivors in a ship-to-ship transfer. He suggested that certain "troublemakers" among the rescuees would be investigated. As of Tuesday afternoon, the Thalassa was off the coast of Tunisia, making way at a slow bell.]
Salvini calls for ban on Operation Sophia's rescue ships
On Sunday, Matteo Salvini suggested that naval vessels that rescue migrants in the Mediterranean under the EU-backed Operation Sophia should be barred from Italian ports.
"Thursday I will bring to the [EU meeting] in Innsbruck a request to block the arrival in Italian ports of the ships of the international [rescue] missions," Salvini said in a social media post. "Unfortunately the Italian governments of the last five years had signed agreements so that all these [naval] ships discharged immigrants in Italy."
Over the past year, Italian public opinion has shifted against immigration. In two polls conducted last September, 46 percent of Italians said that they felt that migration made Italy less secure, and just over half said that their government had not done enough to curb immigration. During the Italian general election this March, Salvini's League party and its allies campaigned on a nationalist, anti-immigration platform and won a plurality of seats in Italy's legislature.