Italian Product Tanker Acts to Save 70 People from Drifting Boat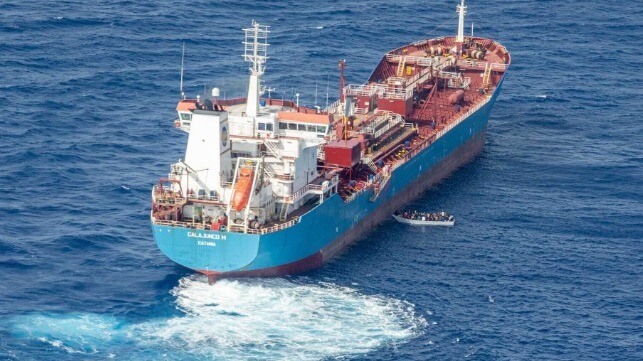 The master of an Italian product tanker is winning broad praise from humanitarian organizations for his intervention to save the lives of 70 migrants adrift in the Mediterranean on July 1. The people were successfully transferred to the tanker and taken to Italy due to the actions of the vessel and its crew.
The NGO Sea-Watch Italy is reporting that its spotter airplane Seabird 2 detected an open-air boat heavily loaded with people on July 1. The boat appeared to be in distress in the SAR region for Malta. Normally the group's vessel the Aurora might have been directed to intervene but their ship was finishing up a 20-day detention in Italy for disobeying orders on a previous rescue.
The group notified the Italian and Maltese authorities of the plight of the open-air boat and not seeing an immediate response also alerted an Italian-registered product tanker Calajunco M. (21,600 dwt) about the small boat that was in danger nearby.
The master of the tanker navigated his vessel which had departed Tunisia on July 1 looking for what he was told was a small gray boat. Finding the boat, he positioned his tanker and made contact with the people determining that the boat's engine had stalled out and it was drifting. He contacted the authorities, which according to media reports instructed the captain to assist the boat in restarting its outboard motor.
Waiting for additional instructions, the master of the tanker reportedly began supplying the migrants with lifejackets, blankets, and first aid supplies. While he had not received additional instructions, he determined that the boat was in danger as the weather was growing worse. He said that sea conditions were at force 4 and winds were reaching 20 knots.
Captain Manuel Arena decided to use his 528-foot long tanker to create a calm area in the sea and began transferring the migrants to the tanker. His crew of 18 assisted and they successfully brought aboard 70 people from the open-air boat.
Conferring with the Italian rescue authorities in Rome, the Calajunco M. received permission to transfer the rescued individuals to the port of Trapani. He diverted the tanker to the Italian port and landed the 70 migrants on the evening of July 2.
The Italian rescue organization Mare Junio issued a public letter hailing the captain for his actions. "You have once again honored the law of the sea," the NGO wrote. "Our heartfelt thanks go to you for having saved human lives and renewed in the best possible way the glorious tradition of seafarers and our merchant navy."
The owner/operator of the tanker, Augusta Due, an independent shipping company set up by Raffaele Brullo and operating in the product tankers sector for 30 years, confirmed the actions of their vessel. They also commended the master for his decisive actions.