Iraq's Ambitious Al Faw Port Project Inches Closer to Completion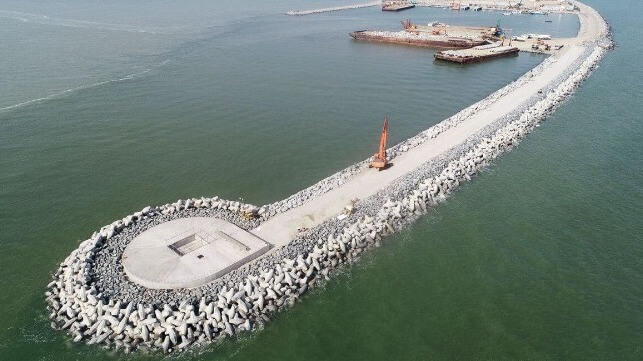 Iraq has made progress in completing the first phase of its multi-billion-dollar Al Faw Grand Port Project. In a statement to local media last week, Iraq's Minister of Transport Razzak Al-Saadawi said the port project is nearly two-thirds complete. The phase one completion date is set for 2025, including a five-berth container terminal with an initial capacity of 3.5 million teu per annum.
"About 68 percent of the five berths in Faw has been completed after it was only 19 percent 3 years ago. We expect berth one to receive its first vessel soon as part of a trial operation," said the Minister.
The construction of Al Faw Port project in southern Iraq began almost a decade ago but has experienced considerable delays, partly due to funding and political issues. The port's masterplan envisages a massive set of container, dry bulk and oil terminals with a total capacity of 99 million tons per year, as well as a dry dock and a naval base.
If fully built out, Faw Port would be one of the largest ports in the world. Its ambitions are grand, including rail and road links through Iraq into Turkey and Europe. A 36-mile road connecting to Iraq's current Port of Umm Qasr is in the works, and a 745-mile rail and motorway project linking the Grand Faw Port to Turkey was recently launched.
The $17 billion project, dubbed "The Development Road," aims to turn Iraq into a transit hub by shortening travel time between Asia and Europe. Like Russia's Northern Sea Route and China's New Silk Road rail line, it is a bid to rival Egypt's Suez Canal for speed to market.
South Korea's Daewoo E&C company is building the first phase of Faw Port under a $2.7 billion contract it was awarded four years ago.
Phase two of the project yet to be initiated comprises an industrial area that include a refinery, a steel plant and other industrial utilities. Phase three include Al Faw New City, consisting of housing, a trade and commercial center, a school and mosques.