Iran Signs Deal With Russian Shipyard on Rig Technology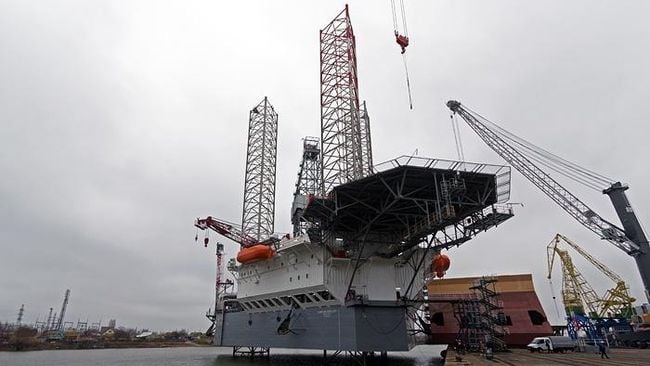 Confirming earlier reports, Iranian shipbuilder ISOICO has entered into an MoU with Russian shipyard Krasnye Barrikady ("Red Barricades") for rig construction cooperation and technology transfer.
Speaking to Iranian media, ISOICO Managing Director Hamid Rezaeian said that the MoU involved "engineering discussions, exchange of technology as well as taking advantage of the Russian company's international rating agency which will resolve our need to produce certain equipment."
The managing director of Red Barricades, Alexander Ilyichev, said that his firm was ready to send ship construction equipment to Iran under the agreement. "Considering the current level of relations between the two countries, we are ready to provide ISOICO with the necessary equipment thanks to the financial and insurance support of the Russian government."
In mid-December, the Red Barricades yard said that it was in talks with Iran for large-scale construction of drill rigs. Yard director Ilyichev told Russian media that he hoped to "sign an agreement for the joint construction of the rigs for exploration and production of hydrocarbons in the waters of the Persian Gulf." In addition, he said that Iran was interested in ordering new tankers for a run on the Caspian Sea. "The construction cycle is planned not for one year, but for decades," he added.
Red Barricades has experience building jack-up platforms for Caspian Sea exploration and production, but the yard is landlocked, and the detailed announcement issued Monday suggests that the proposed rigs would be jointly built at an Iranian yard.
Icarus Consultants recently highlighted the growing overcapacity in the offshore rig sector, particularly with the large volume of newbuild jack-up rigs nearing completion at Chinese yards – about 125 of them.
ISOICO recently made headlines for another technology transfer and cooperation agreement with Hyundai Heavy Industries for the construction of ship repair facilities. Citizen journalists Bellingcat have reported on satellite imagery showing the shipyard's expansion progress.