Accelleron Sees a Key Role for Turbocharging in the Green Transition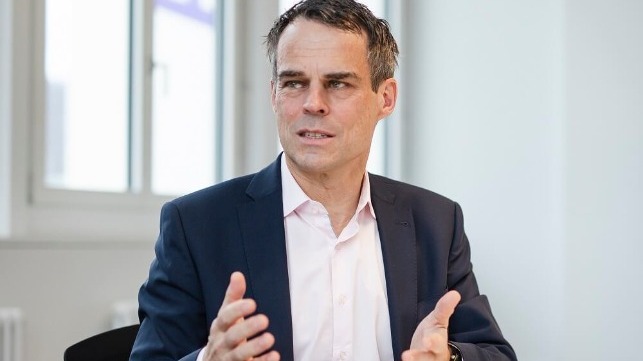 In October 2022, Swiss technology giant ABB spun off its turbocharging business as a separate publicly-listed company, Accelleron. The newly-independent firm has 100 years of history with boosting fuel efficiency in diesel engines, and CEO Daniel Bischofberger says that this expertise is more important than ever as shipping moves towards the green transition. TME recently caught up with Bischofberger to learn more about his experience as Accelleron's first CEO and his vision for the company's future.
Can you tell us a bit about your career and how you took on the top post at Accelleron?
Accelleron was a once-in-a-lifetime opportunity for me. I knew that turbochargers were going to be a fantastic business and that Accelleron would be a market leader in high-performance turbochargers for internal combustion engines. My first one and a half years with the company have been full of a positive dynamic and we reached all of our milestones in relatively short time.
My previous career links to Accelleron in many aspects, one being my previous work as head of a gas turbine service business with a multi-billion-turnover and my previous position at Sulzer as a member of the Executive Committee and Division President of the service organization. Originally, I joined ABB - of which Accelleron was a part of before its independence - back in 1993 as a Commissioning Engineer in the Combined Cycle Power Plants business, spending eight years with ABB across various roles. Besides that I have held senior positions at Alstom and Dätwyler, a master's degree in Industrial Engineering and a BA in Mechanical Engineering from the Swiss Federal Institute of Technology (ETH) Zurich as well as an MBA from INSEAD.
Accelleron saw strong revenue gains in the first half. Can you tell us what is driving the strong demand for Accelleron's capabilities in maritime?
With regards to the first half of the year, we haven't published our full half year report yet, but recently updated our financial guidance and announced strong revenue growth in the first half of the year of 20%. When looking on the preliminary figures of the first half year, we saw a combination of positive factors in the merchant marine market (container, bulker, tanker) as well as the gas compression with strengthening demand. The orderbook in the marine industry remains at a constant high level. When looking back today on the still rather short time as an independent company since our spinoff from ABB and stock listing in October 2022, I would say we had a very good start.
What sets Accelleron's turbochargers apart from the competition?
Accelleron is the undisputed leader in turbocharging for mission-critical applications, and we provide an end-to-end solution for our customers. Our products help our customers save costs and reduce emissions.
Our strong partnership approach is a real differentiator. For example, we start out by designing turbochargers and our application engineering experts also collaborate closely with OEMs to tailor turbocharger specifications to every single installation. Our operations are based on a foundation of almost a century making significant and continuous investments in technology. But we also challenge the status quo: we recently launched the next generation of turbochargers for two stroke engines, the X300 L series. This provides industry leading power density and efficiency, is easier to service as it does not require a drydock for maintenance and easy to adapt for an increasing variety of fuels. We think this flexibility is exactly what the market needs.
Accelleron is well-positioned to help maritime manage the green transition. Can you tell us about what your customers need most for making the switch to low-carbon fuels?
Large combustion engines are here to stay for long-distance shipping, given the limitations of batteries and other technologies, so we need to ensure that vessels are being turbocharged to be as efficient as possible. Accelleron's turbochargers increase power output and engine performance by up to 300%, reduce fuel consumption and carbon emissions by up to 10%, while slashing nitrogen oxides (NOx) emissions by up to 60%.
We defined our corporate purpose as "accelerating sustainability in Marine & Energy" – with our role becoming even more critical given the International Maritime Organization's highly ambitious goal to reach net-zero emissions around 2050. We think the marine market will be decarbonized by several alternative fuels including LNG, ammonia, methanol and hydrogen in the short term-future. In the long-run we consider E-fuels, which are produced from renewable energy and carbon dioxide, as the only viable option to achieve the 2050 targets. They are produced by converting renewable electricity into hydrogen and combining this hydrogen with CO2 (in the case of methanol and methane) and N2 (in the case of ammonia). Their combustion is potentially carbon-neutral and they can be used in various sectors, in particular in shipping.
Obtaining the correct mixture of oxygen and fuel will also be essential for fuel efficiency - even more important as future fuels will be initially more expensive than fossil fuels in the beginning. We prepared well for the decarbonization journey ahead of us: and recently acquired OMT (Officine Meccaniche Torino), one of the world's leading manufacturers of marine fuel injection systems. This will expand Accelleron's position as a leading innovator in alternative fuel technologies, such as hydrogen, methanol, and ammonia. Additionally, we have a leading digital offering with Tekomar XPERT marine software, which helps optimize fuel efficiency and engine performance for vessel owners.
Accelleron invests heavily in R&D - can you tell us a bit about the kinds of projects that are at the center of your research efforts?
Innovation is at the core of our business. One of the reasons for the spin-off was to enable us to place even greater focus on this area. We invest around 6 to 7% of annual revenues in R&D.
Our activities are R&D is centralized in Baden, where we also find a great ecosystem of partners for our research activities. Our test facilities there have been recently upgraded to provide enhanced testing using biodiesel and hydrogen in turbocharging as well as fuel cells.
We are also working on many initiatives for future fuels and fuel cells, where our turbochargers are ideally placed to increase efficiency and reduce costs. All the fuel types, including LNG, hydrogen, methanol, even ammonia and fuel cells are feasible for us, whichever fuel solutions the industry leans towards. We can offer our customers turbochargers specifically adapted to their fuel choice and needs; our market-leading R&D group helps customers immediately should any issue arise.
Service is key for every OEM - what makes Accelleron's service stand out for the shipowner?
Service is at the very heart of everything Accelleron does. Our global service network and the extremely close customer loyalty are what really sets us apart, which is why we generate 75% of our revenue with services. We provide 98% spare parts availability and deliver within 48h to any airport globally.
We are always on hand, wherever our customers need support. We have more than 100 service stations worldwide, with 2,500 colleagues in over 50 countries. With their skills, competencies and deep technical and industry understanding, they play a key part in keeping our customers' ships functioning to the highest standards. This best-in-class services offering improves efficiency and reduces downtime for ship owners, therefore reducing the costs of a ship's operation and improving margins.
Our services offering also makes trying out new fuels far less risky for our customers as they can get support wherever and whenever they need it. We also work to optimize end users' cost of ownership by offering upgrades and lifetime extensions. Digitalization encompasses all steps of a turbocharger's life cycle, improving transparency and effectiveness both for Accelleron as well as for its customers.
Can you tell us about your vision for Accelleron and its growth in the years ahead?
We are offering our customers innovative lifecycle solutions in the Marine and Energy sectors and position ourselves as trusted partner for the energy transition ahead, both towards customers and society. Our goal is to strengthen our position in our core markets even further via our role as a core enabler of decarbonization and a leader in fuel transition. The OMT acquisition has extended our technology portfolio and will reinforce this position. Our steps are designed to support our OEM customers to develop more fuel-efficient propulsion solutions and the operators to reduce their life cycle costs and carbon footprint. In addition, the acquisition strengthens Accelleron's core business as we are involved much earlier in the OEM's development cycle in future.