Industry Talks LNG at Posidonia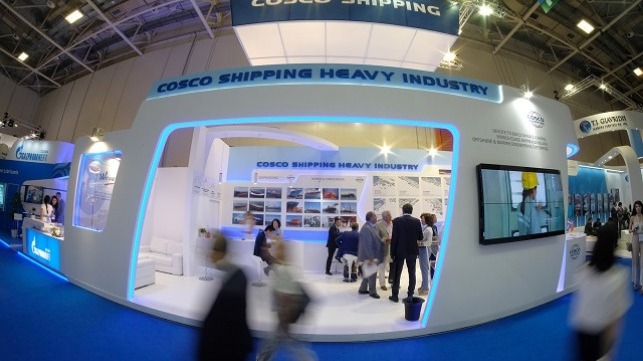 Clean fuel is one of global shipping's hottest topics as the IMO 2020 global sulfur cap approaches, and European Commissioner for Transport Violeta Bulc said in her speech during the official opening ceremony of Posidonia 2018, that the European Union's vision of zero emissions from transport by 2050 would have additional long-term implications for shipowners worldwide.
"The global sulfur cap brings valuable opportunities for the E.U. manufacturing industry, and Europe is leading the development on the use of LNG as a fuel for shipping, which attracts strong interest also in other regions of the world."
A global approach on decarbonization and environmental sustainability is very much a hot topic on the exhibition floor at Posidonia 2018, where shipbuilders, engine manufacturers and scrubber providers are showcasing their clean fuel plans and strategies.
The big players from the Far East, China, Japan and Korea, currently hold impressive newbuilding order pipelines from European and Greek shipowners, and they have once again attended the event. Tohru Kitamura, Executive Vice President of Mitsubishi Shipbuilding Company said: "We are already prepared for the installation of LNG fuel vessel for various types of vessel, but in Japan the domestic Japanese owners have not decided yet which way to go, LNG fuel, crude fuel or other types of fuel.
"At least 4,500 vessels belong to domestic owners and of the total newbuilding order book of Mitsubishi, international shipowners account for less than half of our production.
"At Mitsubishi we have various kinds of technologies regarding fuel for example ethanol and LPG fuel. There is an increasing environmental consciousness in Japan as a result of the looming 2020 deadline and several owners will decide to apply our own scrubber system, others will select the low sulfur fuel system and moreover in Japan there are many kinds of small cargo vessels with small gross tonnage and those owners have not yet decided."
Kitamura signed a Letter of Intent with China's Cosco Shipping for the manufacturing of a new scrubber demo test facility whilst at Posidonia 2018.
Steven Zhang, Head of Repair & Conversion Department, COSCO Shipping said: "LNG is the future, and it is a big part of China's environmental policy. Our government is very strict on the protection of the environment. We have similar regulations in China. We have a main area for low sulfur oil burning during the vessel discharging process. We are researching how to retrofit the main engine with LNG tanks and are investing in partnership with GTT, a French LNG solution provider, who are supporting us on the LNG retrofitting project. More and more LNG vessels are discharging in China and docking in China."
Also at Posidonia, a new LNG Bunkering project, 'probunkers', was launched. A newly-formed company will design, build and operate a fleet of modern, eco-friendly LNG bunkering vessels to brace the ever-changing needs of global shipping. The project will have a three-tier role, as physical supplier, LNG trader and barge owner and operator.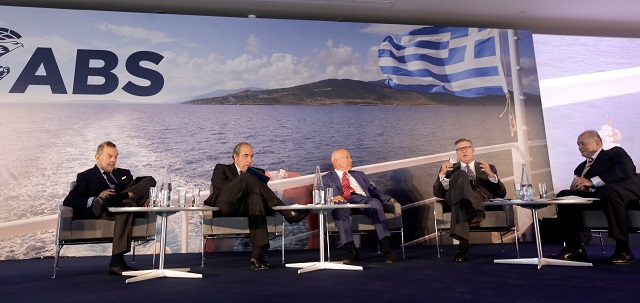 ABS held a high-profile panel discussion at the start of Posidonia led by Chairman, President and CEO Christopher J. Wiernicki. "LNG has a bright future," said Wiernicki. "And this came directly from the owners and operators who have a decisive role in delivering that future."
Chairman Emeritus of Poten and Partners, Michael Tusiani, opened the discussion stating: "The LNG shipping market has evolved as the value and size of the trade has increased. Larger vessels are now the standard, charterers are moving toward shorter-term periods and the spot market is growing. New owners are moving into the sector, so the question is how much experience will matter to charterers and will they be willing to pay for it."
Chairman and Chief Executive Officer of Angelicoussis Shipping Group, John Angelicoussis, said: "LNG was an antiquated industry until 2005: what other sector used steam this century? We were a very traditional industry that got better very quickly. Now we have reached a plateau, but the new projects will continue. The gas demand is increasing; there may be a supply/demand mismatch in the short term, but more vessels will be needed than we think."
Executive Chairman of Gaslog, Peter Livanos, said: "It is inevitable that LNG will be the primary fuel source for marine transport. We need to address the lifecycle of existing assets and bunkering infrastructure which is acting as a brake on adoption, but this should accelerate. The train has left the station and cannot be stopped."
Chairman of Dynacom Tanker Management, George Procopiou, said: "The LNG shipping business is going through an evolution which is tracking the growth of the commodity and the services around it are becoming commoditized. Natural gas is becoming much more widely appreciated and used; we are in a macro growth trend, it will be one of the main energy sources of the future."
Wiernicki added: "LNG has done a lot of the heavy lifting in the shipping industry for more than a decade and the improvements in performance have been dramatic. Now we have seen a maturing in the rate of technological change and going forward we will see efficiency gains in how companies use data and digital tools to track the performance of their equipment and assets, and this is where the next big gain will be made across all of shipping not just LNG."
ABS maintains the largest global orderbook for the classification of LNG carriers. To support the industry in the development of floating storage and regasification units, ABS released its Guide for Building and Classing LNG Regasification Vessels. ABS and GasLog LNG Services also completed a joint development project demonstrating a new approach to evaluating LNG boil-off rate.
Posidonia 2018 is being held from June 4 – 8 at the Athens Metropolitan Expo. The event is organized under the auspices of the Ministry of Maritime Affairs & Insular Policy, the Union of Greek Shipowners and the Hellenic Chamber of Shipping and with the support of the Municipality of Piraeus and the Greek Shipping Co-operation Committee.