IMRF Awards Shortlist Announced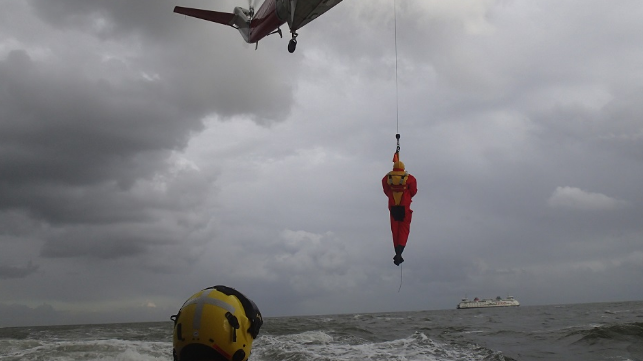 The International Maritime Rescue Federation (IMRF) has announced the individuals and organizations shortlisted for its 2018 awards.
Alexander Menzel from Surf Life Rescue in Germany and Captain Siddarth Sharma, a ship's master from India, are shortlisted for the IMRF Award for Outstanding Individual Contribution to a Maritime SAR Operation.
Menzel established the Surf Life Rescue Association in Germany with a group of friends to cover the entire scope of water rescue in 2015. The organization has grown to more than 350 members across Europe and in 2017 alone handled more than 170 rescue missions.
Sharma has been nominated for his role in the rescue of two French fishermen who had been drifting for three days on a sinking fishing boat. He spotted the seafarers from the bridge of his vessel when they were 2.5 kilometers away and immediately diverted his ship to rescue them.
The two organizations shortlisted in the Team category are the Canadian Coast Guard Volunteer Rescue Specialists, and the KNRM Station Terschelling Paal 8, from Friesland, Netherlands.
The Canadian Coast Guard Volunteer Rescue Specialists have provided direct medical assistance to many in need in the Pacific, Arctic and Atlantic Oceans, and run a valuable training program giving shipboard crew the skills to provide advanced pre-hospital care to the sick and injured at sea.
The KNRM Terschelling Paal 8 (Royal Netherlands Sea Rescue Organisation) have been nominated for their actions in two SAR (search and rescue) operations conducted in extreme weather conditions last year. The first was when they rescued four people from a guard vessel drifting without any power and the second for their involvement in a rescue of a stranded fishing vessel in treacherous icy conditions.
The Innovation and Technology category attracted some great nominations. The two selected by the judges are RescueNET (a new and unique secure web-based safety service from Inmarsat, which is provided free to Maritime Rescue Coordination Centres worldwide to reduce response time and improve SAR communications) and the Pink Rescue Buoy (an emergency flotation device which can be thrown to someone in danger of drowning, before the lifeguard or emergency services arrive), developed by the National Sea Rescue Institute in South Africa.
Two individuals have been nominated for the IMRF Vladimir Maksimov Award for Lifetime Achievement in the Maritime SAR Sector. John Kooijman founded CITRO (Curacao Sea Rescue Organisation) in 1965. Relying on seaplanes and yacht owners until 2001, he has built a close working relationship with the KNRM (Royal Netherlands Sea Rescue Organisation). CITRO now has over 40 volunteers, fundraising, marketing and PR support teams, a technical team and many sea-going volunteers, plus two professional sea rescue vessels, two seadoo's, a boathouse, a 24/7 response service and a signed MOU agreement with the coastguard.
The other shortlisted individual is Captain Nick Guerchev, Chairman and founder of BULSAR, the Bulgarian national volunteer maritime safety society. He's been involved in maritime safety since the age of 14 when he joined the maritime section of the governmental voluntary organization for defense. A career in the Navy and Merchant Navy followed, where he specialized in SAR, salvage and communications. Personally, he has been involved in SAR operations associated with more than 25 major maritime disasters and has contributed to the saving of more than 250 lives at sea.
All of the winners of the IMRF Awards 2018 will be announced at the IMRF Awards ceremony and dinner on November 8. The event will be hosted by the Norwegian Society for Sea Rescue (RS) at their training center, RS Noatun near Horten in Norway, following the IMRF's annual European Regional Meeting.
The event's hosts will also present a Local Hero Award 2018, which will be awarded to an exceptional SAR team from Norway, nominated by the Norwegian Society for Sea Rescue (RS).
There are two nominations in the IMRF Local Hero Award 2018 category: the first is for a three-man voluntary rescue crew – Coxwain Espen Johan Hole and crew members Kristian Lundemo and Magnus Hafslund from RS in Norway, who took part in a high-profile rescue saving three people. The second nomination is for two committed volunteers, Frode Rostad and Stein Erik Aannerud from RS's Voluntary Search and Rescue Unit at Lake Mjøsa, both of whom have been saving lives at sea for more than 20 years.
The judges of the IMRF Awards 2018 are: Michael Vlasto (Former IMRF Chair and Chair of the Awards Judging Panel); Nigel Clifford (General Manager Safety and Response, Maritime New Zealand); Jared Blows (Maritime Rescue Coordination Centre Chief, MRCC Cape Town, South Africa); Stein Solberg (JNCC Stavanger, Norway); Gwynne Lewis ( Maritime Product Line Director, Orolia) and Nicolai Jarlsby (President, Norwegian Society for Sea Rescue).
The lead sponsor for the IMRF Awards 2018 is Orolia Maritime, which is also sponsoring the Team Award for the third year in succession. Inmarsat is sponsoring the Lifetime Achievement Award. The Individual Award is sponsored by CM Hammar. The Innovation & Technology Award is sponsored by Pole Star. The Awards Dinner is being sponsored by Swede Ship Marine. The Local Hero Award is sponsored by the Norwegian Seafarers Union; the Norwegian Union of Marine Engineers; the NSOF Novsk Sjooffisersforbund and Hansen Protection.