Hyundai's Offshore Yard to Close in August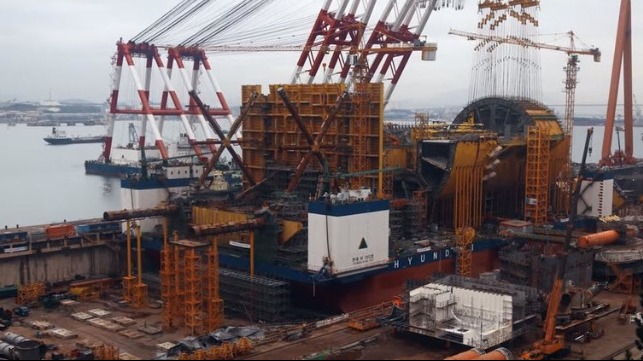 On Friday, Hyundai Heavy Industries announced that it will soon run out of work for its offshore facility, and it is making plans to close it in August. Its very last offshore platform order - a module for the UAE's NASR oilfield - will be delivered at the end of next month.
The closure will affect more than 5,000 workers at the offshore facility, including 2,600 full-time employees. HHI's main commercial-vessel shipyard, located near to the offshore yard in Ulsan, will continue operations as before.
HHI says that it has been losing out on offshore infrastructure orders to competitors in China and Singapore, where labor costs are roughly one third the rate paid to Hyundai's employees. "At this time, we will streamline our organizational resources and create a strategic team to win new orders," said HHI's head of offshore marketing, Yune Sung-il.
HHI has already shuttered its Gunsan commercial shipyard and several of its drydocks due to a severe fall in ordering activity, a consequence of the simultaneous shipping and offshore downturn. Ordering activity for merchant ships has rebounded somewhat over the past year, but it is still short of the company's targets for 2018.
HHI also faces uncertainty over the fate of a $700 million order from the Islamic Republic of Iran Shipping Lines for four post-Panamax container ships and six 50,000 dwt chemical tankers, all of which are due for delivery later this year. With American sanctions on Iran set to snap back into place within months, HHI faces the possibility of being unable to receive delivery payments for ten completed vessels.