Hurtigruten Cancels Hybrid Ship's First Cruises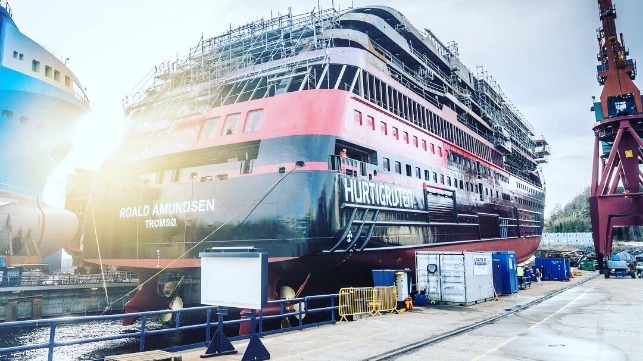 The first of four new hybrid-powered cruise ships for Hurtigruten, the Roald Amundsen, has had her delivery date pushed back until 2019. She was due to be delivered this summer, but her first cruises had to be canceled after shipbuilder Kleven Verft said that it needed more time. The Amundsen will be the world's first hybrid-powered expedition cruise ship, and she is being built to a Rolls-Royce design.
In a message to customers that was first reported by Norwegian outlet Avisa Nordland, Hurtigruten said that the ship will be completed this summer but will not deploy until 2019. The delay is said to be related to the complexity of the project, but the delivery date for the second vessel in the class will not be affected.
If not for the delay, the Amundsen would have sailed to Chile for a series of Antarctic voyages beginning this October. About 3,000 passengers and multiple sailings are affected, and Hurtigruten is refunding fares and airfare, according to Dagens Naeringsliv (DN).
"As soon as Kleven contacted us, we set all the processes to get an overview of the situation, and make sure that the guests were informed as quickly as possible. It has also been important for us to put in place proper offers and good solutions to those affected so that we can help the guests as much as possible," a Hurtigruten spokesman told DN.
The four-ship order for Hurtigruten is one of the yard's largest orders ever. Kleven Verft has built three cruise ships for the Norwegian cruise line before, and it has a long history of constructing ro/pax ferries, yachts, cable layers and offshore vessels. Hurtigruten is a part owner of the yard: it was one of six companies that provided Kleven with a $40 million capital injection last year, and it received part of a 40 percent stake in return. According to previous statements from Kleven, the financing averted the possibility of bankruptcy.