Huntington Ingalls Closes on Sale of Avondale Shipyard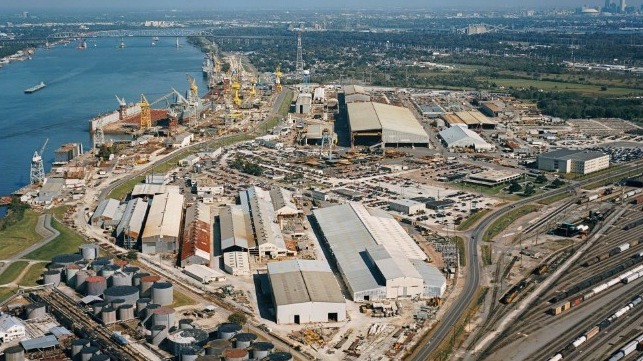 Defense shipbuilder Huntington Ingalls Industries has closed on the sale of the historic Avondale Shipyard site in New Orleans. The buyer is Avondale Marine, a joint venture between terminal operator T. Parker Host and Hilco Redevelopment Partners, a specialist in real estate projects on brownfield sites.
Over nearly eight decades in business, the Avondale yard completed over 2,400 vessels and offshore modules, from warships to icebreakers to container ships. Among other noteworthy projects, it built several of the well-known "LASH" barge carriers; a prison barge for New York City; the Coast Guard medium icebreaker Healy; and a wide variety of warships and naval auxiliaries. At its peak it was the largest employer in Louisiana, with a total of 26,000 workers. It completed its last vessel for the U.S. Navy and closed its doors in late 2014.
HII announced the sale of the site in August 2017, but did not disclose the price or the buyer at that time. Avondale had been on the market since 2015, and HII dropped the asking price from $125 million to $95 million prior to the sale.
"We are very proud of our legacy at Avondale and the many contributions that generations of its shipbuilders made to our national security," said Ingalls Shipbuilding President Brian Cuccias. "We are pleased that Avondale Marine plans to put the facility back into commerce and look forward to its success."
The sale paves the way for the site's reuse as a "logistics hub." Avondale Marine is expected to redevelop the site's crane, dock and terminal assets, leverage the former shipyard's rail connections to six major rail carriers and provide space for commercial tenants. T. Parker Host has not released the details, but it said in a statement that the JV will begin a planning process with stakeholders in the coming months.
"Our goal is to place Avondale into the supply chain as a multimodal, global logistics hub that not only moves goods but actually adds value on-site. We are grateful for the steadfast support and leadership of the governor, parish president and council, as well as our partners in the project, including the Port of New Orleans, the New Orleans Public Belt Railroad, JEDCO, GNO Inc., the Jefferson Business Council and the Jefferson Chamber of Commerce."
T. Parker Host and Hilco have previously partnered on the reuse of the Bethlehem Steel Mill in Baltimore, Maryland. In 2012, that site became Tradepoint Atlantic, a 3,000-acre multimodal port with a large rail yard, a roro facility and a sprawling complex of distribution centers and manufacturers. T. Parker Host holds a 10-year lease for Tradepoint's marine cargo operations.