Hull Breach Causes Oil Spill from Great Lakes Freighter off Michigan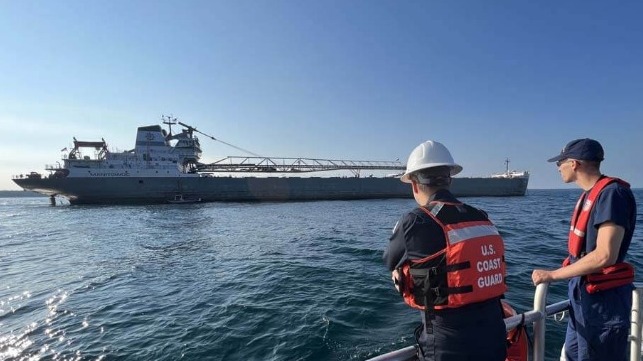 The U.S. Coast Guard along with state and local agencies was responding to a Great Lakes freighter that was leaking oil in Lake Michigan while anchored approximately 1.5 miles off the coast. Residents were briefly warned to stay away from the beaches, but in coordination with NOAA, the Coast Guard later said it was mapping the projected movement of the spill and that it was safe to go to the beaches. People were cautioned to remain on the lookout for possible diesel oil contamination.
The 50-year old laker Manitowoc, owned by Rand Logistics and operated by the group's Grand River Navigation reported the oil spill to the U.S. Coast Guard Wednesday afternoon. The vessel registered in the U.S. is 19,800 dwt and 630 feet in length. The USCG reports it was told shortly after the ship left port the crew observed movement in the fuel gauges, indicating possible water ingress and a fuel leak.
The ship told the U.S. Coast Guard that it had determined it had a hull breach on its starboard side in the area of its diesel fuel tank. Within a few hours of the report, a USCG overflight spotted a red oil slick that was approximately 1.6 miles long and 200 yards wide projecting to the northeast from the vessel. NOAA determined that winds and currents were keeping the slick offshore. As of late on Thursday, 24-hours after the diesel was released, the USCG is reporting that a visible sheen two nautical miles long and approximately three-quarters of a nautical mile wide was still reported on the lake. The closest affected area is .8 nautical miles from shore.
The USCG deployed 400 feet of sorbent boom in an attempt to contain the slick, while the vessel reported it was lowering the fuel level in the tank to get it below the breach. At the same time, a crew was working to patch the breach with reports saying they initially had partially blocked the breach. Later reports are saying the breach has been plugged. As of Thursday, the USCG is confirming that the vessel is no longer leaking oil.
The current estimate is that the maximum fuel aboard is 45,175 gallons of diesel. They are currently working to determine how much was released into Lake Michigan. The vessel's operators have retained a salvage company to aid in the recovery.
The self-unloading bulker remains anchored near Manistee, Michigan.