Houthi Rebels Release Video of Car Carrier Hijacking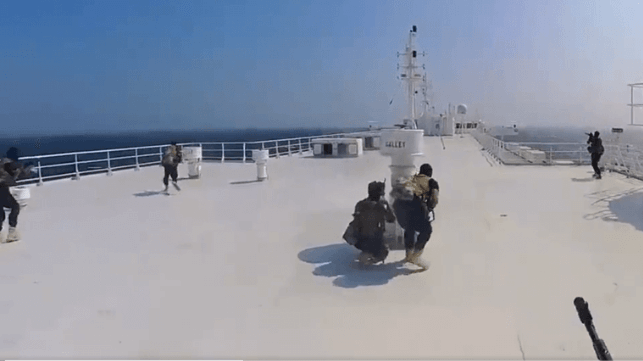 Yemen's Houthi rebel group has released video footage of the hijacking of the car carrier Galaxy Leader, confirming Western reports that militants boarded the vessel by helicopter.
The video's existence suggests that Sunday's operation had a preplanned media component. A high-definition camera attached to the tail of the Mi-17 helicopter recorded its movements as it approached the ship. As the armed boarding team piled out of the helicopter and fanned out across the car carrier's top deck, at least one soldier had a helmet-mounted camera turned on to capture their movements. Another had a camera on a selfie stick mounted to his pack (as first noticed by TankerTrackers.com). The footage was spliced together and distributed online in less than a day.
The video shows that the helicopter approached from astern, where the car carrier's bridge watchstanders had the least visibility. In what appeared to be a rehearsed and coordinated operation, the boarding team moved forward along the top deck from the landing zone, pausing periodically to take cover behind deck machinery, vents and other obstacles.
The footage also shows that the attack happened in broad daylight. A previous warning from the International Maritime Security Construct had advised shipping to transit past Yemen's coast during darkness in order to avoid detection - an unusual and stringent cautionary measure for commercial vessels in one of the world's busiest maritime thoroughfares. Stopping during daytime would have schedule implications (and commercial effects).
NEW VIDEO: Yemen's Houthi rebels hijack a cargo ship in the Red Sea over the weekend pic.twitter.com/pkkUJpbe5c

— Trey Yingst (@TreyYingst) November 20, 2023
The Houthi rebel militia that controls northern Yemen announced Sunday that it had captured an Israeli-linked ship and taken the crew hostage. The vessel has been identified as the PCTC Galaxy Leader, operated by NYK. It is commercially operated by the Isle of Man-incorporated, Israeli-owned ro/ro firm Ray Car Carriers, according to its Equasis record.
Israel's defense ministry has denied that the ship is "Israeli," but warned Sunday that the hijacking is "a very grave incident of global consequence." Israeli Prime Minister Benjamin Netanyahu's office reports that there are 25 seafarers aboard - none Israeli, and most drawn from the top seafarer-supplying countries.
Israel has described the attack as "another act of Iranian terrorism." Iran is the primary foreign sponsor of the Houthi cause.