Horizon Offshore Joins Bourbon in Harsh-Environment PSV Joint Venture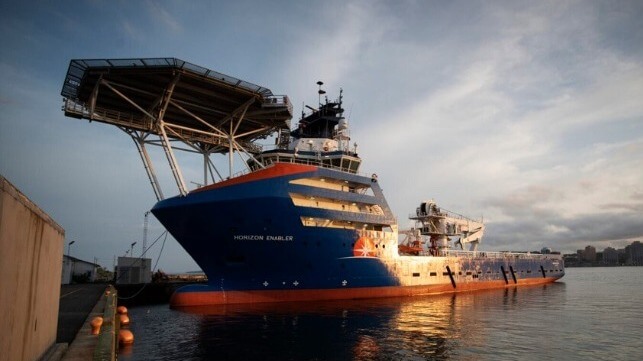 Canadian offshore vessel company Horizon Maritime has joined up with French competitor Bourbon to provide services on both sides of the Atlantic, the firms announced Thursday.
The new JV company, Bourbon Horizon, is incorporated in Norway and will focus on the North Sea and the Canadian offshore market. It will operate a fleet of seven vessels, including five Bourbon PSVs and both of Horizon's offshore vessels, the ROV-equipped AHTS Horizon Arctic and the MPSV Horizon Enabler. The JV also plans to offer shipmanagement services to other offshore vessel operators, drawing on a pool of experienced mariners for crewing.
"The Bourbon Horizon AS JV will . . . support the consolidation of the OSV sector in harsh environments, while achieving substantial economies of scale," said Bourbon CEO Rodolphe Bouchet.
The JV will be run by Cliff Gaetz, Horizon Maritime's director of offshore services in St. John's. The company will also have staff and operations in Fosnavag, Norway, for clients on the eastern side of the Atlantic.
The two firms are joining forces just in time for a resurgence in activity in offshore oil and gas. 90 percent of the world's available offshore oil rigs are currently under charter, up from about 60 percent in 2018, according to Westwood Global Energy. The "supercycle" level of activity has a knock-on effect for the offshore-vessel market, and some owners are quietly talking about building new tonnage - a sharp reversal from the downturn of 2015-2020, when the offshore industry was focused on consolidation and scrapping. The supply of anchor-handlers has been particularly tight in the North Sea, where day rates for AHTS vessels hit a new record near $150,000 last summer.