Historic 111-Year-Old Coastal Trader Returns to Sea as Sail Cargo Ship
A 111-year-old Dutch coastal trader returned to the sea in a new commercial sail cargo operation. The De Tukker, operated by Dutch startup Eco Clipper, is a prototype and part of a growing niche sail cargo operation launched to highlight eco-friendly shipping. Departing Amsterdam earlier today, the company reports De Tukker is handling well and is currently crossing the Bay of Biscay.
The service is being launched to highlight the potential of once again using sail power for commercial cargo. Following a refit and sea trials, De Tukker is once again propelled by over 300 square meters of sail. She measures 131 feet in length and can carry about 70 cubic meters, or an equivalent of 50 to 70 tons, of cargo. She has accommodations for up to 12 trainees or travelers.
"After a year-long period of expert refitting by our own refit crew and the crew of the Talsma shipyard, it was with the greatest pleasure that I watched De Tukker sail off towards the horizon," said Jorne Langelaan, EcoClipper founder and CEO. "This is the next step in returning to large-scale transport by sailing vessel at sea."
Langelaan started the company in 2018 with the vision to build a modern sail cargo vessel. Eco Clipper acquired its first ship, De Tukker, in January 2022. Built in 1912 as the Harle Tiefand, she worked for many years as a coastal trader. The two-masted vessel in the 1980s became a Dutch sail training vessel. She was retired after an accident in 2011 with the next owner planning to convert her into a houseboat.
The ship went to the shipyard in early 2022 for renovations where it was discovered that it would require more extensive work. The overhaul included replacing the entire underwater hull. After seven months of refitting at the Talsma shipyard, De Tukker set sail again on November 12, 2022. She was moved to a berth at the Museum Harbour Willemsoord where additional steel, wood, and rigging work was completed.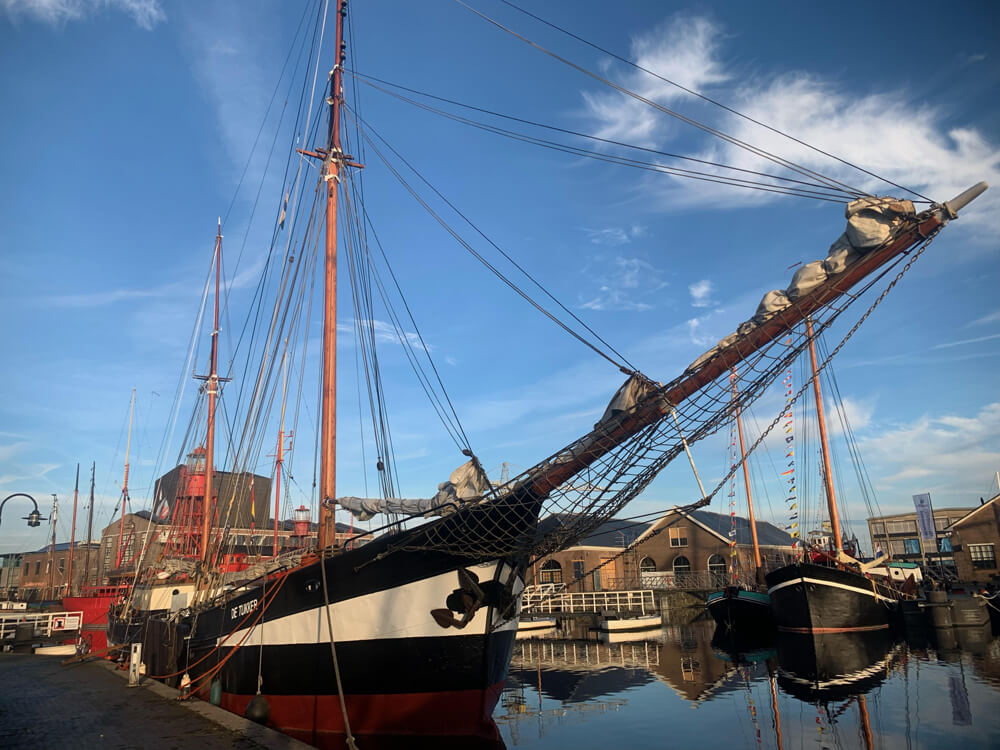 De Tukker carries about 50 to 70 tonnes of cargo (Eco Clipper)
Leaving Amsterdam, Eco Clipper says she is carrying chocolate, five crew members, and five trainees. She is headed for Porto, Portugal where she is expected to arrive around May 13 and take on a cargo of wine and olive oil. This is the first voyage on a sailing schedule which will see the ship sail on a regular route across North and West Europe. De Tukker's currently scheduled destinations are Porto, Noirmoutier, Saint Nazaire, Penzance, Torquay, and London. Depending on the needs of exporters and consumers, EcoClipper may add additional ports to the route.
The first cargo onboard is chocolate produced by a Dutch chocolate maker and destined for European distribution by sail cargo brokers New Dawn Traders. According to the company, the cacao used in the chocolate's production process was shipped from the Dominican Republic by another sail cargo vessel, Tres Hombres. The objective is to manufacture a product while producing a minimum level of emissions from its transport.
Eco Clipper is also working on its vision for a new prototype design, the EcoClipper500. According to the company, she will be a state-of-the-art sailing vessel with three square-rigged masts and a total sail area of 976 square meters. The concept calls for a vessel that will carry 500 tonnes of cargo with up to 36 trainees and 12 passengers. She would have a crew of 12.
Several other niche companies have also emerged operating small sailing ships to carry commercial cargo. Larger commercial designs are also being developed as part of the effort to create a modern zero-emissions cargo shipping industry.