HD Hyundai to Expand Digital Automation to Improve Shipyard Productivity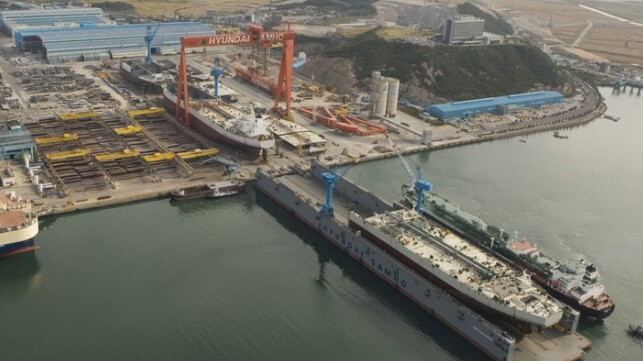 South Korea's largest shipbuilding conglomerate, HD Hyundai's HD Korea Shipbuilding & Offshore Engineering Co. plans to accelerate the deployment of digital automation to improve shipyard productivity and address the pressing lack of labor to meet the company's order backlog. It is part of a series of steps the company is taking toward its goal of becoming a "smart shipyard" by 2030.
Like all the major Korean shipbuilders, KSOE has been under pressure to improve operating margins and lower costs as it seeks to achieve consistent profitability from its shipyard. The three major shipbuilders, Hyundai, Samsung Heavy Industries, and now Hanwha Ocean, are also faced with a lack of skilled labor and have been pressing the government to increase training programs and the number of visas for foreign workers to fill projected long-term labor concerns.
Each of the shipyards is also exploring automation. Hyundai reports that its efforts are expected to help cut costs, reduce inefficiency, and sharply boost productivity.
HD Hyundai has signed a new agreement with German engineering and technology company Siemens to accelerate the development of a digitalized automated production system expanding on current initiatives. The effort will focus on developing a platform to innovate in all aspects of shipbuilding from the design to manufacturing of vessels.
They expect the first step will be the introduction of robots for steel plate molding and welding at Hyundai Mipo Dockyard's shipyard located in Ulsan. They expect to roll this system out by 2025 along with a cyber system for design.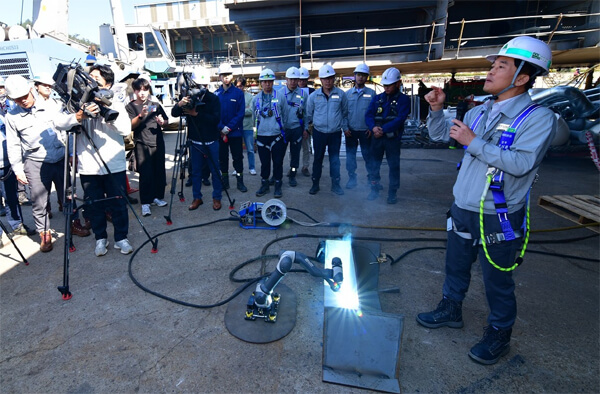 Demonstration of the automatic welding technology (Hyundai Samho Heavy Industries)
As part of the automation efforts, the company also staged a demonstration of its automatic welding equipment today, October 18, at the Hyundai Samho Heavy Industries yard. The demonstration was held for partners and researchers including the Small and Medium Shipbuilding Research Institute. Hyundai Samho Heavy Industries plans to introduce the automatic welding equipment being used in the field to its external partners and support related technologies in the future for the introduction and expansion of automated processes.
Working with Siemens, they will also combine their existing digitalized automated production system with a next-generation design platform being developed by HD Hyundai Heavy Industries and Hyundai Samho Heavy Industries.
They expect the digital platform will be a key step in streamlining the shipbuilding process from design to manufacturing. The automated production system will provide a unified platform to manage data on vessel design and output and create a digital twin usable by all HD Hyundai shipbuilding affiliates.