Harbor Improvements Lead to New Business at Port Canaveral
Port Canaveral's turning basin improvements are allowing post-Panamax ro/ros to call for the first time, a significant development that will allow the port to increase traffic volumes and revenue. The deepening project provides turning basin access equal to the authorized channel depth of 44 feet.
Two post-Panamax ro/ros, the Höegh Trotter and the Auriga Leader, recently called at Canaveral at the same time - the first ever simultaneous call for vessels of their kind at the port. "To have two RO/RO vessels importing and exporting vehicles simultaneously at the Port is an important milestone for our cargo operations and demonstrates our growing ability to accommodate multiple large-capacity vessels," Port CEO Captain John Murray said. "Central Florida's continued economic growth is spurring increased ro/ro business for our Port."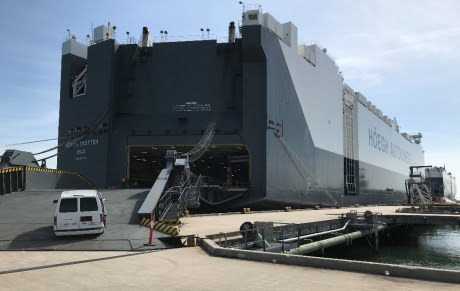 The port is also working on a new multi-purpose terminal for its commercial space industry customers, including Elon Musk's SpaceX. The new North Cargo Berth 8 will open in mid-2019, and will provide new capacity for high-and-heavy cargo, including spacecraft components. Capt. Murray said that the project is driven by an "unprecedented demand for bulkhead space" and the port's rapidly-growing roster of aerospace tenants.
Crews from Orion Marine Group are currently installing over 400 concrete piles, each about 90 feet long. Once the piles have been placed, construction will start on a seawall with a concrete cap. The new terminal will have a 900-foot seawall and a 100-foot pier extension, which will give it enough room for an 850-foot-long vessel with 35 feet of draft.
Space flight firm SpaceX uses the nearby Cape Canaveral rocket pads for its satellite launch missions, and it has leased space at the port to support its operations. It also recovers rocket booster components at sea using a high-tech refitted deck barge (or "autonomous spaceport drone ship", and it brings the used boosters back to shore at Port Canaveral for refurbishment.
SPACEX BOOSTER FRESH FROM SPACE: Has arrived at Port Canaveral....SpaceX Falcon 9 booster from this weekend?s launch being readied for refurbishment. pic.twitter.com/6Gw1IaQnFK

— Port Canaveral (@PortCanaveral) July 25, 2018