Hapag-Lloyd Places Record Reefer Order with MCI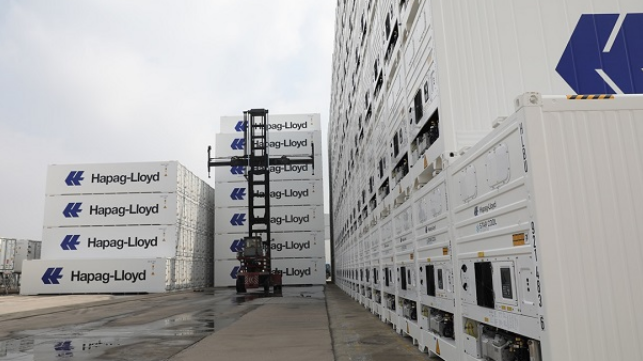 Hapag-Lloyd has recently announced new reefer bookings of 11,100 units and awarded Maersk Container Industry (MCI) a record order for 8,600 of the units, of which 2,000 will be controlled atmosphere reefers.
The successful launch of Hapag-Lloyd's ExtraFresh and ExtraFresh Plus services has driven the company's demand for more controlled atmosphere reefers. The order brings the number of Star Cool controlled atmosphere reefers in Hapag-Lloyd's ExtraFresh fleet up to 5,000.
The new reefers will be integrated to the company's existing fleet of 91,000 reefers. Hapag-Lloyd already has a significant footprint in the refrigerated container market, and since 2015 the liner shipping company has purchased a total of 30,550 new reefers (including the latest order).
MCI has commenced production of the 8,600 Star Cool Integrated reefers at their Qingdao site in China. All of the reefers are ready to switch over to R513A, a low Global Warming Potential (GWP) R513A refrigerant blend introduced to Hapag-Lloyd last year in 1,000 Star Cool units. The alternative refrigerant offers a 56 percent GWP reduction. The use of the R513A refrigerant with Star Cool addresses the environmental protection legislation for existing technology platforms introduced under the E.U.'s F-gas regulations. The energy efficiency of Star Cool can be proved in real time using a built-in energy meter, which MCI says is a first in this industry.
Hapag-Lloyd aims to reduce its total carbon footprint by a further 20 percent by 2020, and efficient reefer containers will play a significant role in achieving this goal.
Other liners are also growing their controlled atmosphere capabilities, and in August this year, Ocean Network Express (ONE) ordered 14,000 reefers. Of these, 2,100 will be equipped with controlled atmosphere technology.
Fresh produce accounts for four percent of the world seaborne trade of dry cargoes, said industry analyst Dynamar in its reefer analysis, earlier this year.