Handysize Takes Out Town's Water Supply in Bridge Strike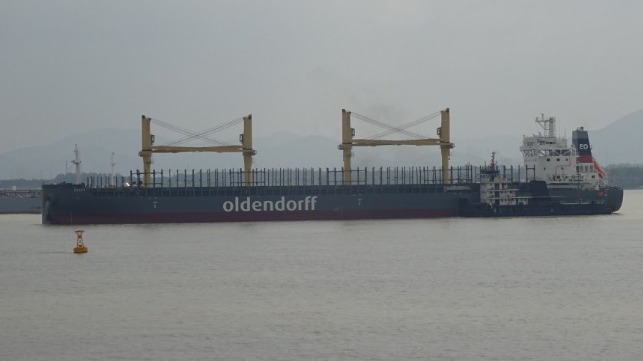 The geared bulker Erna Oldendorff cut off the water supply to the town of Suo-Oshima, Japan on Monday when her mast struck a pipe on the underside of a bridge.
The Oldendorff was passing underneath the Honshu - Suo-Oshima bridge early Monday en route to the port of Etajima, Japan. She struck the underside, dislodging about 800 feet of water main and the fiber-optic cables that provide the island with internet access.
The damage reportedly affects about 15,000 people in Suo-Oshima, and the local government is providing emergency drinking water to residents using tank trucks. The bridge remains in service for vehicle traffic.
The Japan Coast Guard says that the Erna Oldendorff passed under the bridge at about the time of the incident and that her main mast shows signs of damage. The vessel has been ordered to an anchorage for an investigation. Operator Oldendorff Carriers confirmed the allision in a statement Monday, and said that it had informed the authorities immediately upon learning of the accident.
"Regardless of the full details of the cause of the incident Oldendorff Carriers would like to apologise for the disruption caused to anyone as a result of the unfortunate events," the firm said. "There is currently an investigation by the Japanese Coast Guard to which Oldendorff Carriers is offering its full cooperation."
As of Monday night, the Erna Oldendorff was anchored at a bay near Kure, according to her AIS signal.