Guided-Missile Destroyer Thomas Hudner Commissioned
The U.S. Navy commissioned its newest guided-missile destroyer, the future USS Thomas Hudner (DDG 116), on Saturday.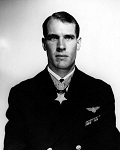 The USS Thomas Hudner honors naval aviator and Medal of Honor recipient Capt. Thomas J. Hudner Jr. President Harry S. Truman awarded the Medal of Honor to Hudner on April 13, 1951, who displayed "conspicuous gallantry and intrepidity" for attempting to save the life of his squadron mate, Ensign Jesse L. Brown, in the Battle of Chosin Reservoir during the Korean War.
On December 4, 1950, Brown of Fighter Squadron (VF) 32, embarked on board aircraft carrier Leyte (CV-32) as the first African American to complete the Navy's basic flight training program for pilot qualification and be designated a naval aviator. He flew a close support run in a Vought F4U-4 Corsair over Hagaru-ri, North Korea. Antiaircraft fire struck the Corsair, and Brown made an emergency landing beyond Chosin.
Darkness approached and the temperature fell, and Brown's wingman, Hudner, crash landed wheels-up and attempted to pull Brown from the wreck. The buckled fuselage had trapped the pilot's legs, so Hudner packed snow around him to extinguish smoke, and returned to his aircraft to radio for a rescue Sikorsky HO3S-1, flown by 1st Lt. Charles C. Ward, USMC, of Marine Observation Squadron 6.
Although Brown perished in the incident, Hudner survived the war and retired from the Navy after 26 years of service. He passed away November 13, 2017 at the age of 93 and was interred with full military honors at Arlington National Cemetery on April 4, 2018. This will be the first U.S. Navy ship to bear the name Thomas Hudner.
The USS Thomas Hudner will be the 66th Arleigh Burke-class destroyer. The ship will be able to conduct a variety of operations, from peacetime presence and crisis management to sea control and power projection. Thomas Hudner will be capable of engaging in air, surface and subsurface battles simultaneously and will contain a myriad of offensive and defensive weapons designed to support maritime warfare, including Integrated Air and Missile Defense (IAMD) capabilities.
USS Thomas Hudner will be homeported at Naval Station Mayport, Florida.
Class: ARLEIGH BURKE class destroyer
Motto: Above All Others
Keel Laid: November 16, 2015
Christened: April, 1, 2017
Length: 513 feet
Beam: 66 feet
Draft: 30.5 feet
Displacement: 9,217 tons
Speed: 30+ knots (34.5 mph)
Propulsion: 4x General Electric LM2500 Gas Turbines 100,000 shp (75,00 kW)
Crew: 27 Officers, 280 Enlisted Personnel