Grounded Drilling Rig's Fuel Tanks Breached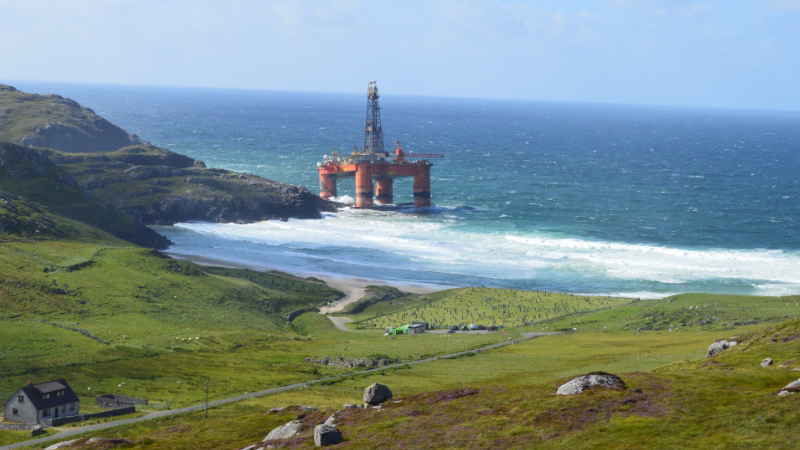 Just one day after the UK Maritime and Coastguard Agency suggested a "low" risk of a leak from the grounded drilling rig Transocean Winner, authorities on scene confirmed that two of the semisub's fuel tanks were damaged, spilling an unknown amount of the 280 tonnes of diesel fuel on board.
The government official in charge of the response effort, Hugh Shaw, said that no signs of the fuel oil had been detected near the site of the grounding, and that it may have already dispersed into the sea. Responders continue to monitor the area for signs of pollution.
Foul weather is expected to hamper the salvage assessment this week; a team was not able to return to the rig on Wednesday due to rough conditions. The Coastguard said that additional salvage equipment and crew were in transit to join the effort. Two tugs, the Union Bear and the ETV Herakles, are standing by to assist as needed.
Scottish Environment Secretary Roseanna Cunningham told the BBC that "although the diesel is expected to rapidly disperse in the current sea conditions, the environment group, which is chaired by Marine Scotland, has put in place measures to swiftly identify any potential environmental impact on this precious and fragile marine habitat."
The Member of Scottish Parliament for the Western Isles, Dr. Alasdair Allan, told The National that the incident casts a negative light on the recent reduction in the number of emergency towing vessels stationed in Scotland.
"I am grateful to hear that there have been no injuries reported after this incident but it does leave us with a significant environmental threat to deal with," he said. "I am also deeply concerned to hear that the Marine Coastguard Agency's nearest emergency towing vessel was in the region of 14 hours away. Since the number of emergency towing vessels based in Scotland has been cut from two to one this community has repeatedly warned of exactly this kind of incident."