Tanker Arrested During Salvage of Greek Tanker
The scandal surrounding the sunken Greek product tanker Agia Zoni II took on new dimensions this week when Greek authorities found undocumented petroleum aboard the vessel that had been contracted to pump out the Zoni's fuel tanks.
Prosecutors contend that the response tanker, the Lassea, had significant quantities of a "petroleum mixture" on board without the correct documentation. The suspect petroleum was found in her ballast tanks when she arrived at a refinery to deliver the oil recovered from the wreck of the Zoni. The Lassea also had expired government certificates of seaworthiness, like the Zoni, which was operating on an extension.
The Security Office of the Central Port Authority of Piraeus said in a statement that it has arrested the Lassea, her captain and chief engineer on smuggling charges. The officers' case will be heard at the Complaints Court of Piraeus on Friday.
In a statement on Thursday, the Zoni's owner denied responsibility for the spread of the spill and cast doubt upon the prosecutor's allegations that the Lassea had engaged in smuggling. "What logical man will not be wondering how it is possible for a ship that has arrived at the wreck site to help pump oil . . . [would] engage in smuggling at the time of pumping?" the firm said.
The problems with the Lassea have amplified criticism of the government's response to the spill. Greenpeace Greece claimed Wednesday that the Lassea's absence from the spill site has delayed the salvage effort, an addition to the group's earlier complaints of an allegedly deficient cleanup effort. "If the leadership of the Ministry of Merchant Marine has moved gods and demons to fight the oil spill, we certainly have not met them in [the island of] Salamis. What we see is, however, that most of the polluted beaches are abandoned and the oil spill remains in a large part of the marine region that has been hit," said Dimitris Ibrahim, a spokesman for Greenpeace's Greek office.
The spill has sparked calls for reform from within the government and from civil society. The ruling party, the left-wing coalition Syriza, called for changes at the shipping ministry to improve oversight. "Protection of the environment is not a luxury, but a prerequisite for social well-being," the party wrote in a statement. "In this context, it is necessary to further strengthen the institutional framework as well as to strengthen the public sector mechanisms for the control of maritime transport." The Panhellenic Seamen's Federation (PENEN) also called for reforms to remove aging or poorly-maintained tonnage from the local fleet of bunkering vessels and small tankers.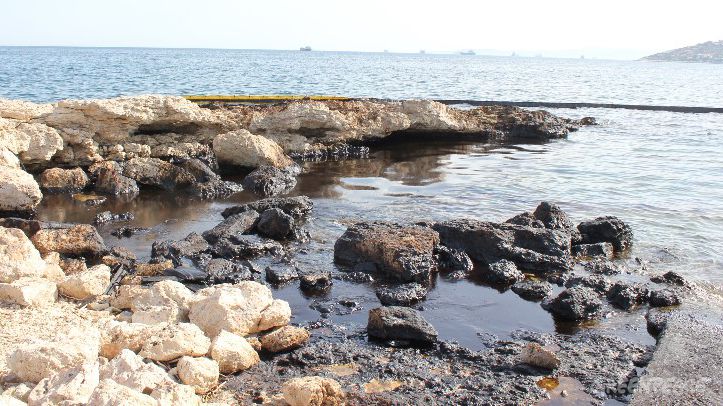 Spill at Kynosoura, Salamina (© Christopher James Dean / Greenpeace)