French Prosecutors Charge Captain with Sulfur Limit Violation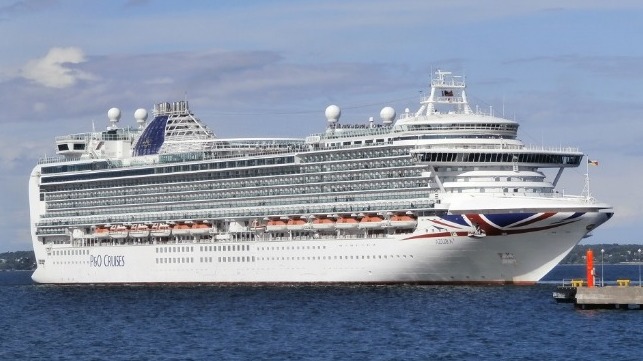 Prosecutors in Marseille have put an American cruise ship captain on trial for burning bunkers slightly above an EU limit of 1.5 percent sulfur content. The charges come as NGOs and regulators have focused attention on the health effects of air pollution near Marseille's harbor, which hosts a growing number of cruise ships.
On the morning of March 28, 2018, while under the command of Capt. Evans Hoyt, the Azura called at Marseille, France. Inspectors boarded, sampled her tanks and determined that she was using fuel with a sulfur content of 1.68 percent, slightly higher than an authorized limit of 1.5 percent. Records showed that the Azura had bunkered with 1.75 percent fuel at the port of Barcelona before calling Marseille.
Based on this evidence, Marseille prosecutor Xavier Tarabeux alleged that Carnival Corporation's P&O brand had engaged in "use by a ship in [EU] territorial seas of ??fuel whose sulfur content is higher than the allowed standards for air pollution. In court, prosecutor Franck Laugier called for the Azura to be fined 100,000 euros, with 80 percent to be paid by Carnival Corporation and 20 percent by Capt. Hoyt.
According to Le Monde, the defense has argued that the EU's 1.5 percent sulfur limit applies only to "passenger ships providing regular services to destinations or from ports of the European Union." As the Azura is a cruise liner, not a ferry with "regular services," the defense argues, she should be exempt. The regulation does not make an explicit exemption for cruise ships, and different EU member nations have taken different approaches to its application.
In court on Monday, Capt. Hoyts' defense team also said that the regulation limiting fuel sulfur content on passenger ships is unfair, as cargo vessels are not subject to the 1.5 percent cap. (The more stringent EU ECA Zone limit of 0.1 percent sulfur does not apply in the Mediterranean.)
Capt. Evans Hoyt (USMMA '82) joined the P&O Cruises vessel Azura as master in 2016. According to his online resume, he previously sailed for ten years with Norwegian Cruise Lines, where he served as the captain of the Norwegian Escape, Norwegian Breakaway, Norwegian Spirit, Norwegian Sky, the Pride of America and the Pride of Hawaii.