Flowline Separation Caused Newfoundland Oil Spill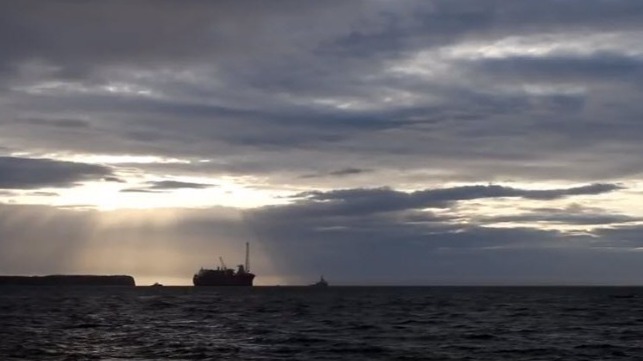 A flowline separation has been confirmed as the cause of the 250,000 liter oil spill at the SeaRose FPSO on Friday. The FPSO is located 350 kilometers southeast of St. John's, Newfoundland, Canada.
Husky had shut in oil production at the White Rose field on Thursday, November 15 due to operational safety concerns resulting from severe weather. The record release of oil occurred during restart procedures the following day. The restart was attempted during a storm with hurricane-like winds and high seas.
A Husky spokesmen has been reported as saying the company did not need to get permission for the operation despite the conditions.
On November 19, Husky deployed a Remotely Operated Vehicle (ROV) to inspect subsea flow lines. The ROV survey confirmed a separated subsea flow line connection at the South White Rose Extension Drill Centre as the source of the spill. No further leakage was observed during the ROV survey.
Operations at the White Rose field are now suspended until a full inspection is completed and Husky has received approval from the Canada-Newfoundland Offshore Petroleum Board (C-NLOPB). Scott Tessier, chief executive of C-NLOPB, told Global News that no oil sheens were visible this week, meaning the oil has likely broken down to the point that it cannot be cleaned up.
Wildlife monitoring continues and a wildlife treatment center has been activated. 14 oiled sea birds have been confirmed, with three recovered and transported to the center for treatment.
Since the storm, C-NLOPB officials have been in daily contact with operators of offshore installations to ensure there is a good understanding of any storm impacts and to ensure that required inspections are complete before operations resume.
In January this year, C-NLOPB suspended operations at the SeaRose FPSO after investigation into an incident in March 2017 when an iceberg entered the vessel's 0.25 nautical mile Ice Exclusion Area. There were 84 people and upwards of 340,000 barrels of crude on board at the time. In accordance with Husky's Ice Management Plan filed with the C-NLOPB, the SeaRose should have disconnected and sailed away from the threatening iceberg. That action was not taken, and personnel were at one point instructed to muster and brace for impact. Ultimately, the iceberg did not make contact with the SeaRose or subsea infrastructure. There were no injuries, no environmental damage and no damage to the facility.