First Ritz-Carlton Yacht Collection Ship Launched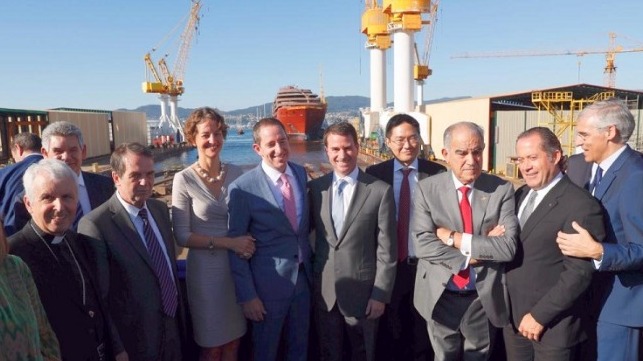 "Hijos de J. Barreras" Shipyard of Vigo, Spain, has launched the first luxury cruise ship built for The Ritz-Carlton Yacht Collection (RCYC), part of Marriot International.
The vessel, designed with Swedish design company Tillberg Design, is the first ship of this type built in the Bay of Vigo and the most expensive civil vessel ever made in Spain. She is also the first passenger vessel built by the North American hotel chain The Ritz-Carlton Hotel Company.
The 11-deck vessel will have five restaurants, three swimming pools, two jacuzzi, a helideck and an aft Marina. She is also claimed to have the highest crew to guest ratio in the market - two crew members for every three guests - accommodating 298-passenger and 246 crew.
The ship has a length of 190 meters, beam of 23.8 meters and draft of 5.65 meters. She will sail at a service speed of 16 knots, with a maximum speed of 17.8 knots. Her diesel/electric propelling plant includes four main generators with a capacity of 3,600kWe each and two propellers of 4,600kW each.
The vessel will enter operation in 2020 and will cruise a wide variety of destinations including Mediterranean, Northern Europe, the Caribbean, Latin America, Canada and the U.S. Voyages will range from seven to 10 nights.