First Open Water Ship-To-Ship Transfer Complete for Yamal LNG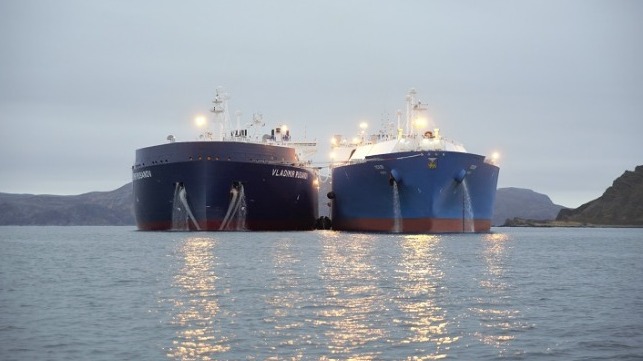 The LNG carrier Pskov successfully completed the first LNG ship-to-ship transfer operation for the Yamal LNG Project on November 24. Pskov loaded some 170,000 cubic meters of LNG which was delivered from the Port of Sabetta (Yamal Peninsula) to the transshipment point by one of the Arctic LNG carriers chartered by Yamal LNG. The cargo transshipment was carried out at the safe anchorage off the port of Honningsvåg, Norway.
The successful ship-to-ship transfer to Pskov signals a new phase for the development of the logistics supporting Yamal LNG. Ship-to-ship transfers enable shorter round voyages for Arc7-ice class Arctic LNG carriers of the Christophe de Margerie series, which increases the efficiency of their operation and consequently of the project in general.
A series of 15 ice-breaking Arc7-ice class LNG carriers was ordered to service the Yamal LNG project by providing year-round transportation of LNG in the challenging ice conditions of the Kara Sea. These vessels have delivered LNG directly to European and Asia-Pacific ports. In December 2017, the first LNG cargo produced by Yamal LNG at Sabetta was transported by the pilot vessel of the series, Christophe de Margerie, operated by Sovcomflot.
Two conventional LNG carriers operated by SCF group, Pskov and SCF Melampus, are expected to be engaged in the ship-to-ship operations.
In August 2018, Pskov successfully delivered the first LNG cargo produced at the second Yamal LNG train from Sabetta.
In June, Sovcomflot and PAO Novatek signed a strategic partnership agreement to develop together logistical support for Yamal LNG, Arctic LNG-2 and other Novatek projects.
As at September 30, 2018, the SCF Group's fleet (including vessels owned, chartered-in, and in joint ownership with third parties) comprised 147 vessels with a combined deadweight of approximately 12.7 million tons.