First Green Methanol-Fueled Boxship Starts Maiden Voyage for Maersk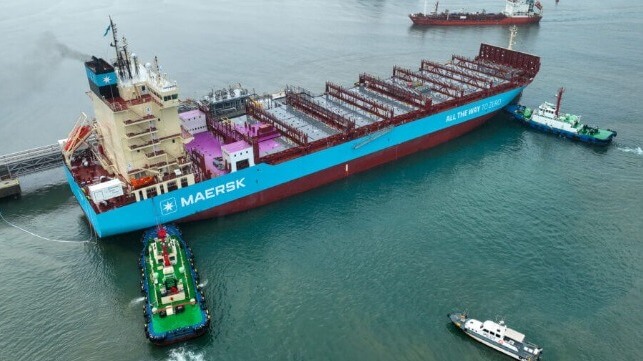 The first containership sailing on green methanol embarked on its maiden voyage today, July 17, marking what the industry is hailing as a new milestone in the efforts to decarbonize shipping. Maerk's new feeder ship, to be officially named Laura Maersk in September, departed Ulsan, South Korea on a voyage that will take it some 11,000 nautical miles to Copenhagen, Denmark for the festivities before entering service in the Baltic.
The departure of the 32,300 dwt vessel came just a day after OCI Fuels reports it completed the first green methanol bunkering operation. The containership was fueled with OCI HyFuels ISCC certified green methanol and under arrangement working with Maersk, a supply of green methanol has been established all along the vessel's route to Europe. Odfjell SE, is the transportation and storage partner, helping to set up the supply of green methanol in Ulsan for yesterday's bunkering operation.
OCI reported the bunkering operation marked the start of the ship's maiden voyage, which will see the ship bunkering in Singapore, Egypt, and Rotterdam en route to Copenhagen. Her AIS signal shows she is making about 9 knots on her way to Shanghai, China where she is due to arrive on July 19.
"The journey will be a catalyst for future green methanol bunkering and will see the ship re-fueled with OCI Hyfuels' green methanol at key global ports, positioning OCI as the first commercial bunker operator of green methanol at a global scale," said OCI Global.
The vessel, which is viewed as a trailblazer introducing the era of methanol-fueled containerships, was first discussed publicly by Maersk in February 2021 and ordered from South Korea's Hyundai Mipo Dockyard in July 2021. The ship is 564 feet long with a 105-foot beam with a nominal capacity of 2,100 TEU including 400 reefer plugs. She was built with a MAN dual-fuel engine that was expected to give her a top speed of 17.4 knots.
Maersk has described previously the unique efforts that went into designing the first-of-its-kind ship. They conducted training both for the shipboard personnel and shoreside to prepare for methanol fuel operations and they expect the vessel will provide critical experience in advance of the launch of their first large methanol-fueled ocean-going containerships in 2024.
Maersk has 24 methanol-fueled containerships on order and has been followed by other large carriers including COSCO, CMA CGM, and now Evergreen. Smaller feeder carriers including X-Press Feeders have also ordered methanol-fueled ships. More than 100 containerships capable of operating on methanol as their primary fuel are due to enter service over the next five years.