First for LNG Bunkering at Sea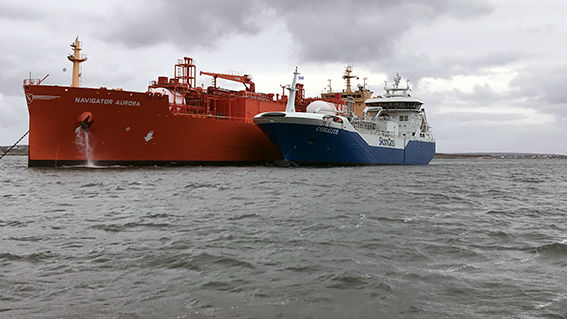 For the first time Skangas' LNG-bunkering vessel Coralius both cooled down tanks and delivered LNG in one operation, in the open sea. The receiving vessel Navigator Aurora was supplied with just under 500mt of LNG in the middle of a voyage between Sweden and South Europe over the weekend.
This first bunker operation took less than 24 hours with the transfer of the main parcel taking six hours.
The Navigator Aurora is the world's largest type-c ethane/ethylene carrier. Going from using diesel oil to LNG requires a cooling down operation of the receiving ship's fuel gas tanks from ambient conditions to minus 160 degrees. The Navigator Aurora's design allows her to pre-cool her fuel gas tanks before LNG spray is introduced, reducing the cooling down period considerably.
The operation that took place over the weekend is a milestone for the industry and proves that with careful planning and teamwork, this type of operation where LNG bunkers is supplied to vessels whilst transiting between ports, is not only efficient but also very safe, says Skangas.
A ship-to-ship bunkering is often the preferred solution for transferring fuel. It offers a flexibility in transfer location, wherever the vessel is located, and a swift operation.
This was Coralius' largest bunkering operation so far. Earlier this month, Coralius was used to supply LNG to the tanker vessel Ternsund in the Port of Gothenburg. It was the first time the vessel operated in the port.
"We work closely with both ports and authorities to serve an increasing number of European vessels with LNG," says Gunnar Helmen, Sales Manager Marine in Skangas. "In this case the Swedish authorities "Transportstyrelsen" overlooked the operation as they are currently developing LNG guidelines for Swedish ports. Soon, the fleet of LNG driven vessels only with Swedish shipowners will double. Up to now we have bunkered LNG by trucks in the Port of Gothenburg."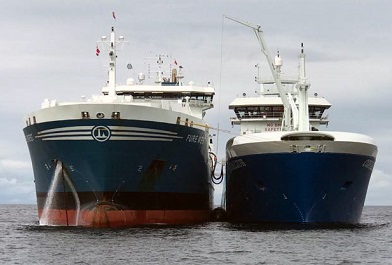 The receiving vessel, Ternsund, is an oil and chemical tanker build in 2016 for the shipping company Terntank. She has a LNG dual-fuel engine from Wärtsila. Currently she serves under time charter deal with Finnish North European Oil Trade (NEOT) distributing products from the Gothenburg area.
Coralius entered service in September this year. She was built by Royal Bodewes, and Skangas took the delivery of the 5,800 cbm vessel from the owners Anthony Veder and Sirius Shipping on long-term charter. Her first operation was to bunker LNG to Fure West in international waters between Frederikshavn, Denmark and Gothenburg, Sweden.