Fincantieri to Acquire Fifty Percent of STX France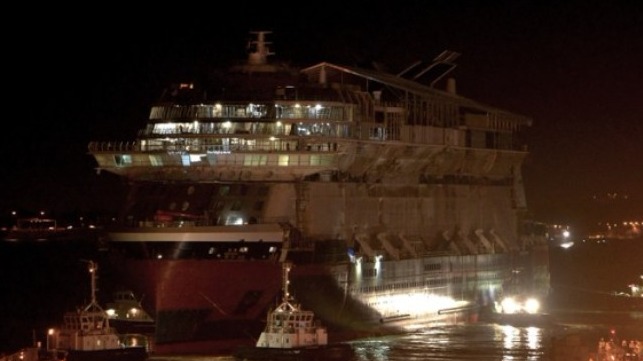 Fincantieri has signed an agreement for the acquisition of 50 percent of the share capital of STX France from the French State, represented by the Agence des Participations de l'Etat (APE), for euro 59.7 million ($73.9 million).
The signing is part of the agreement announced on September 27, 2017 by the Italian and French Governments regarding the future shareholding structure of STX France and will see Fincantieri gain an effective majority share in the yard. The agreement also envisages the participation of the French military company Naval Group as a shareholder and represents an important first step towards the creation of a future alliance in both cruise and military naval sectors, says Fincantieri.
After the closing of the transaction, the shareholding structure of STX France will be:
• Fincantieri (Fincantieri Europe S.p.A.): 50 percent (an additional one percent will be borrowed from APE)
• French State (APE): 34.34 percent (of which one percent to be lent to Fincantieri)
• Naval Group: 10 percent
• STX France employees: up to 2.40 percent
• Local companies: up to 3.26 percent
Last year, the French government canceled a deal with Fincantieri and an Italian investor to buy 55 percent of the yard, but an agreement was subsequently reached that allowed for the sale of 50 percent of the business.
The Board of Directors of STX France will include four members appointed by Fincantieri (including the Chairman and the CEO), two members appointed by the French State, one member appointed by Naval Group and one member appointed by the employees.
STX France is a global player in maritime construction. Based in Saint-Nazaire, on the French Atlantic coast, the Group operates one of the most modern shipyards in the world. STX France has approximately 2,600 employees and a network of more than 500 subcontractors. In 2016, it generated revenues of approximately euro 1.4 billion ($1.7 billion).
Fincantieri says the the two company's cruise businesses are complementary and the new arrangement will allow the two companies to serve all clients and end-markets.