Fincantieri May Lose Chance to Buy STX France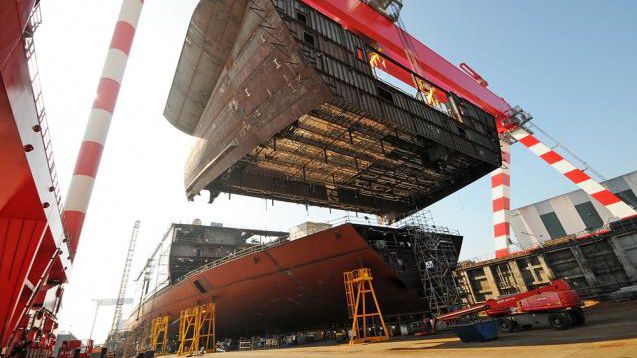 The French government warned on Wednesday that if Italian shipbuilder Fincantieri does not agree to share ownership in STX France on an equal basis, Paris will move forward with nationalizing the facility.
STX's yard at St. Nazaire (also known as Chantiers de l'Atlantique) is the only shipyard in France that is capable of building aircraft carriers, making it a strategic asset. It is also a commercial yard, and is perhaps best known for its cruise ships. Bankrupt Korean shipbuilder STX Offshore & Shipbuilding holds 66 percent of the yard, with the balance belonging to the French state and to French defense contractor DCNS. STX is selling off its share as part of its bankruptcy proceedings, and Fincantieri is the preferred bidder. While France is a minority shareholder, it retains the right to veto any acquisition deal.
Under the previous government of President Francois Hollande, Paris agreed to let Fincantieri buy 48 percent of STX France, making the Italian firm the "shareholder of reference." Italian investment firm Fundazione CR Trieste would buy an additional seven percent, giving Italian companies a controlling stake. However, the recently elected administration of President Emmanuel Macron has asked for a different deal – to split ownership evenly between the French government and the Italian firms, thereby retaining national control. The 50/50 split could also prevent Fincantieri from shifting a portion of STX France's cruise ship orderbook to its own yards in Italy – an unconfirmed but worrisome possibility for French politicians.
In announcing the possibility of nationalization, French economy minister Bruno Le Maire suggested that it could be a temporary measure while France seeks another buyer. He gave the Italian side until Thursday to decide, at which point France would "exercise its pre-emption rights" to take control of STX.
Italy's economy minister, Pier Carlo Padoan, suggested that perhaps the terms could be renegotiated, but he maintained that Fincantieri would have to have a majority share for the deal to move forward. "We have offered to listen to the new government's requirements, but there is no reason why Fincantieri should give up a majority stake and control of the French company," he said.
Fincantieri CEO Giuseppe Bono appeared to take the threat of nationalization as an affront, saying on a conference call that "we are Europeans and on STX we cannot accept being treated worse than the Koreans," an apparent reference to the majority stake held by STX Offshore.