Farewell Tribute for CMA CGM Founder Jacques R. Saad?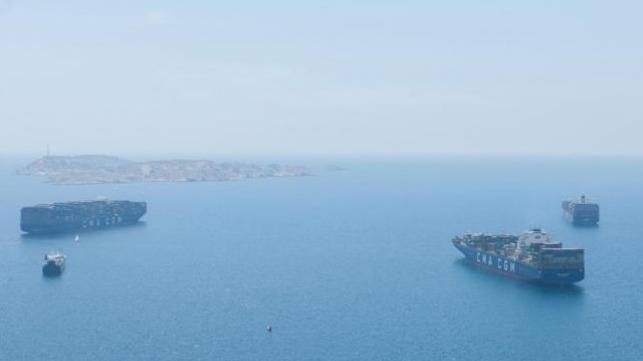 CMA CGM founder Jacques R. Saadé passed away on June 24 at the age of 81, and on Friday, his friends, partners and associates gathered in Marseilles to pay their respects.
All of CMA CGM's Marseilles-based employees were invited to attend the religious ceremony at Marseilles' La Major Cathedral. Prominent attendees included Jean-Yves Le Drian, France's Minister for Europe and Foreign Affairs, Elisabeth Borne, France's Minister of Transport, and numerous local, national and international officials. Lebanese Minister Michel Pharaon, representing Lebanese President General Michel Aoun, posthumously awarded Jacques R. Saadé the Lebanese Merit honor medal, the highest distinction in Lebanon.
In addition, five CMA CMG vessels anchored in the Bay of Marseilles in front of the Cathedral, including the CMA CGM Marco Polo, the 11,000 TEU CMA CGM Leo, the 10,000 TEU APL Gwangyang, and the ro/ros Aknoul and Mont Ventoux. All of CMA CGM Group's vessels worldwide sounded their horns at midday in tribute, and all ships present in French ports also sounded their horns as a sign of respect.
Before the funeral, hundreds of CMA CGM's business associates gathered for a benediction outside the CMA CGM Tower, in the presence of Mr. Saadé's family. In addition, the 30,000 associates of the entire CMA CGM group observed a minute of silence in the 755 agencies in 160 countries where the corporation operates.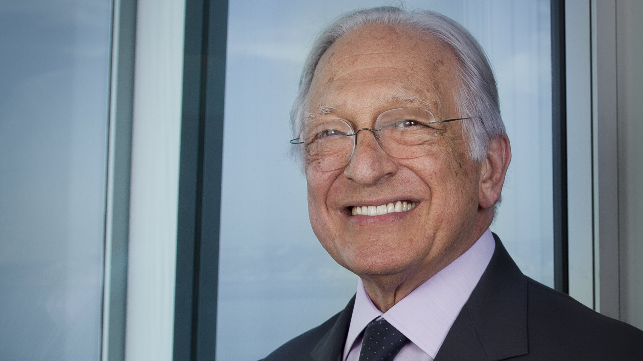 Image courtesy CMA CGM
Saadé was born in Beirut, Lebanon in 1937. He graduated from the London School of Economics in 1957 and soon took charge of the family business. In 1978, when Lebanon's civil war made circumstances in Beirut difficult, he moved to Marseilles, France and created the Compagnie Maritime d'Affrètement (CMA). CMA began with four employees, a single ship and only one maritime service between Marseilles and Beirut.
In 1986, Saadé launched a service linking North Europe to Asia, and in 1992 he opened CMA's first office in Shanghai, predicting that China would become the world's factory. Under his leadership, CMA took over Compagnie Générale Maritime (CGM) in 1996, ANL in 1998, Delmas in 2005, and COMANAV and US Lines in 2007. He was an early believer in containerized freight, world trade, and the possibility of ever-larger container vessels. He was right, and CMA CGM has become the world's third-largest ocean carrier.