External System Verification May Have Prevented Explosion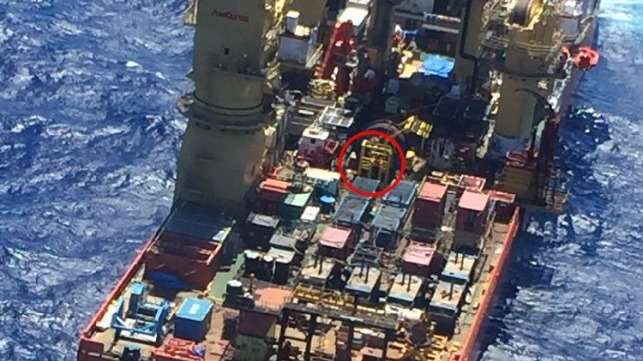 Norway's Accident Investigation Board (AIBN) has released its report into the explosion on board the construction service vessel (CSV) Normand Maximus highlighting that verification of the system on the aft deck by a third party may have helped prevent the accident.
The explosion occurred on February 21, 2017 while the vessel was off Rio de Janeiro in Brazil. One person died and four were injured to varying degrees in the accident. The ship was used in a pre-commissioning operation: in cooperation with the oil industry service company Baker Hughes, Saipem was to carry out pre-commissioning on the oil field Lula for Petrobras.
The explosion occurred when pressure testing of the oilfield's gas flow system was being undertaken. At a pressure of 215 bar, the compressed mixture exploded, which resulted in several blowouts and breaks in the system of pipes and valves on the open deck. A 35-year-old Baker Hughes employee who was working in front of a manual pipe valve was hit by the valve's handwheel thrown out by the explosion and died as a result of the injuries he sustained.
The whole aft deck was filled with different components connected by pipes, hoses and valves. Many of the valves and individual components had been certified by classification societies, but the system as a whole had not been approved or certified by an external party. The AIBN is of the opinion that an independent check and approval by an external party would have constituted a further barrier that would probably have contributed to the shipping company being more confident in the performance of their duties as the party responsible for safety on board the vessel. The AIBN has therefore submitted a safety recommendation to the Norwegian Maritime Authority (NMA) about the issue.
The Brazilian Navy also conducted an investigation, finding that there was inadequate monitoring and control at different points in the system including temperature monitoring. The use of a manually actuated flow control and depressurising valve was the determining factor for the death of the worker, since his positioning in the operation was frontal to the valve and, when it exploded, he was directly hit by the steering wheel of equipment. The Navy concluded that for this type of system, equipment with remote actuation should be used.
The navy also found several broken pipes, torn hoses and faulty locking and relief valves. The installation was without supports, grounding measures were inadequate, there were loose fixtures and some temperature loggers were not installed.