Euroseas Container Ship Rescues 105 Migrants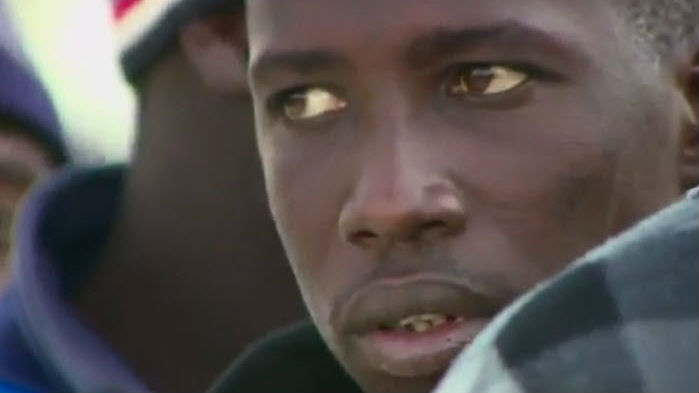 On February 18, the crew of the Euroseas container carrier, Vento di Grecale, rescued 105 Somalian, Sudanese and Egyptian migrants, including three pregnant women and a number of children from an endangered wooden boat that sank in choppy waters a few minutes after rescue.
The Vento di Grecale received a distress call from Malta's Marine Response Coordination Center (MRCC) while sailing South West of Crete en route to Salerno, Italy. Captain Rey Salcedo and his crew immediately responded to the call, locating the wooden boat, which was found to be holed with water leaking and secured it alongside the vessel.
Following the rescue, the crew of the vessel placed the women and children inside the ship's accommodation, while the rest of the migrants were sheltered on the main deck protected from the elements by the containerized cargo. Blankets, food and water were provided to the exhausted passengers including medical assistance to the pregnant women and those suffering from pain and ailments such as diarrhea. In coordination with MRCC Malta, the ship continued her voyage towards Messina Straits.
Frontex, the European Union Agency, was notified of the successful rescue operation and dispatched a rescue boat, the Siem Pilot which met the vessel at a rendezvous position east of Sicily on February 19. All 105 migrants were transferred safely to the rescue boat after being provided with suitable life jackets.
Aristides Pittas, Chairman and CEO of Euroseas, commented: "Euroseas would like to congratulate our Captain, Rey Salcedo, and crew of our vessel, M/V Vento di Grecale, for the professional handling of this search and rescue operation and the humanitarian service they have provided by saving 105 people from certain death.
"Their reaction reflects the values of all of us at Euroseas and the history of my family's 150 years presence in shipping. We also wish to thank MRCC Malta and the crew of the Frontex rescue boat Siem Pilot for their assistance in coordinating this operation and finally taking ashore the refugees."

Euroseas was formed in 2005 under the laws of the Republic of the Marshall Islands to consolidate the ship owning interests of the Pittas family of Athens, Greece, which has been in the shipping business over the past 136 years. Euroseas operates in the dry cargo, drybulk and container shipping markets. The company has a fleet of 12 vessels.