Europe's Dispute Over Maritime Migration Deepens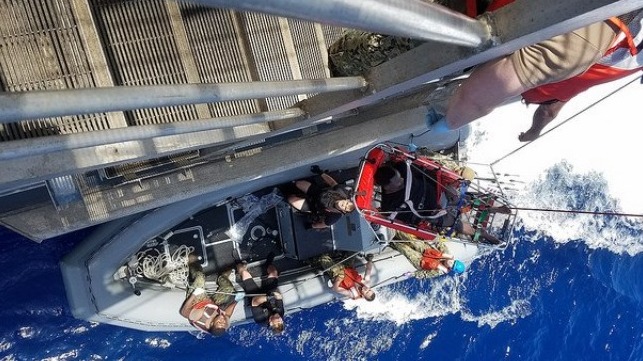 On Wednesday, the intra-European dispute over migrant arrivals from Africa deepened with a new war of words between the governments of France and Italy.
On Sunday, Italy refused the rescue vessel Aquarius permission to enter a Sicilian port to offload 629 rescued migrants, including six pregnant women, 120 unaccompanied minors and 15 individuals with serious injuries. Matteo Salvini, the minister of the interior and the leader of the right-wing League party, said in a statement that "rescuing lives is a duty, transforming Italy into an enormous refugee camp is not."
French president Emannuel Macron criticized the decision and asserted that "there is a degree of cynicism and irresponsibility in the Italian government's behaviour." Macron's ministers echoed his remarks in statements and televised interviews.
Salvini immediately called on the French government to retract its statements, pointing out that France has not yet accepted its quota of 10,000 migrants as arranged under a 2015 EU agreement. French police have turned back thousands of migrants from the French-Italian border since the migration crisis began, and Salvini asserted that only 640 individuals have been transferred to French territory.
"I ask President Macron to pass from words to action and tomorrow morning welcome the 9,816 France promised to welcome as a sign of concrete generosity and not just words," Salvini said in a speech to Italy's parliament. In addition, Italian minister of foreign affairs Enzo Moavero Milanese summoned the French ambassador on Wednesday morning to discuss the matter.
Second rescue vessel barred from port
After barring the Aquarius from port, Salvini suggested that another migrant rescue, the Sea-Watch 3, would also be denied permission to enter Italy upon its return from the rescue zone off Libya. On Tuesday, operator Sea-Watch said that the Sea-Watch 3 has been asked to take aboard 41 survivors upon a request from the U.S. Navy fast transport USNS Trenton, which performed a SAR response 20 nm off Libya earlier in the day. At least 12 migrants perished despite the Trenton's efforts.
In a social media post, Sea-Watch said that the Trenton has not yet received permission from Italian authorities to bring the survivors and the remains of the victims to shore. As Italy has previously allowed government vessels to disembark migrants without incident, Sea-Watch expressed hope that the Trenton would be permitted to bring the survivors to shore herself if Sea-Watch 3 is blacklisted.
"Sea-Watch strongly denounces the fact that once again people in distress at sea are being held in diplomatic limbo," the group said in a statement. "The dispute on migration must not be carried out at the expense of people in need."
Last weekend, Sea-Watch 3 was detained for 12 hours in Reggio Calabria after she delivered 232 rescued migrants to Italian shores. Local police reportedly questioned her captain for several hours and asked embarked journalists to provide footage of the vessel's rescue operations. "After 12 hours stuck in port, without a comprehensible reason given by the authorities, while there were [six SAR cases] on the Mediterranean Sea, we finally set sail," the group said in a social media post. Multiple rescue vessels have been detained and investigated by authorities in Sicily in recent months.