EU NAVFOR Blows Up Suspected Pirate Skiff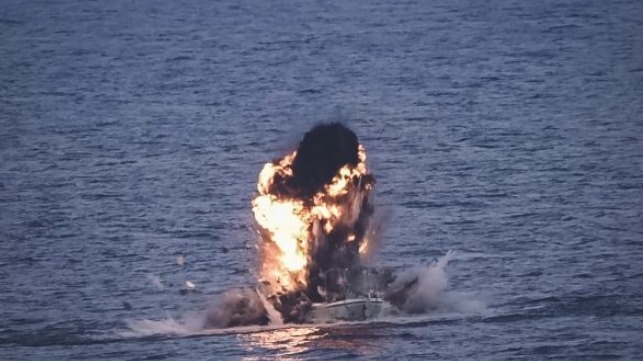 On Sunday, EU NAVFOR's naval forces destroyed a pirate skiff similar to that used in the attempted attack on the bulker KSL Sydney.
On October 16, a skiff with four armed pirates approached the Sydney at a position about 340 nm off Mogadishu. The captain mustered the crew in the vessel's citadel and set off the SSAS alarm. Meanwhile, the Sydney's embarked security team engaged the attackers in a "sustained exchange of fire," according to EUNAVFOR. The skiff eventually broke off and abandoned the pursuit.
After the attack on the Sydney, EU NAVFOR commander Rear Adm. Alfonso Perez de Nanclares ordered additional units to the area for an investigation. Spanish maritime reconnaissance aircraft flew over the area to gain as much information on suspected pirate activity as they could. Their patrols found that pirate launches were still active in the area and could be used to launch further attacks on shipping.
A suspicious boat identified by the patrol aircraft was later tracked down by the crew of the Spanish amphib ESPS Castilla to a small bay just off the Somali coast. Rear Adm. Perez ordered it to be seized, towed out to sea and destroyed.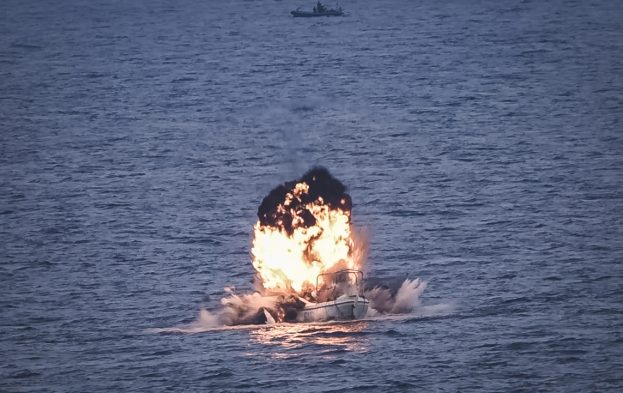 Somali piracy has fallen far from its peak in 2011-2012, when pirate "mother ship" boats ranged thousands of miles across the Indian Ocean. A combination of armed shipboard security contractors and multinational naval patrols ultimately suppressed the problem, resulting in several years without a successful attack. Somali piracy re-emerged last year with a series of attacks on small dhows and foreign bulkers, like the hijacking of the OS 35.