Electrical Malfunction Causes Sudden List on Carnival Cruise Ship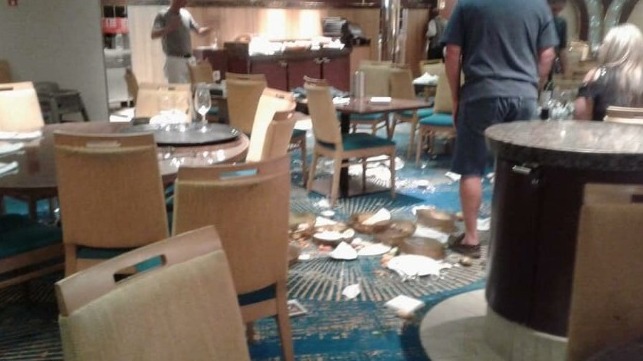 Last Sunday, the cruise ship Carnival Sunshine listed suddenly while transiting off the coast of Florida, causing minor property damage and prompting concern among her passengers.
"Last night was a very scary experience on the Sunshine," wrote one passenger on Twitter. "The starboard side literally felt like it lifted. I was in the dining room on [Deck] Three. All the tables slid and fell over, glass falling and breaking. People screaming."
"I didn't think anything of it, since it's not uncommon for ships to rock back and forth. But it didn't rock back. It kept leaning," passenger David Crewes told USA Today. "The tables themselves started to slide. Glasses and plates started to fall and shatter. At this point, it was pure chaos."
In a statement, Carnival said that there was never any issue with the safe operation of the ship. "Our officers quickly intervened to correct the situation," a spokesperson said in a statement. "Following the incident, evening events resumed for our guests and the ship proceeded on its Caribbean cruise as scheduled."
The Sunshine's captain told passengers in a written update that a fin stabilizer malfunction caused the sudden list.
"As you know, Carnival Sunshine experienced a technical issue which caused the ship to list. We have identified that an electrical switchboard malfunction impacted the use of the fin stabilizers," the vessel's master wrote. "It's important to note that fin stabilizers are not a safety feature; they are deployed solely for guest comfort."
Carnival provided a $50 per person onboard credit to passengers to compensate them for the inconvenience.
Passengers reported that the Sunshine was delayed in San Juan, Puerto Rico to address a mechanical issue, and she skipped a call at Grand Turk. As of Thursday she was underway off Great Harbour Cay, the Bahamas, bound for Cape Canaveral.
The Sunshine completed a two-week drydock period from October 7-21. Among other work list items, she received a new broadband internet service installation.