Electric and Hybrid Propulsion Leaders Recognized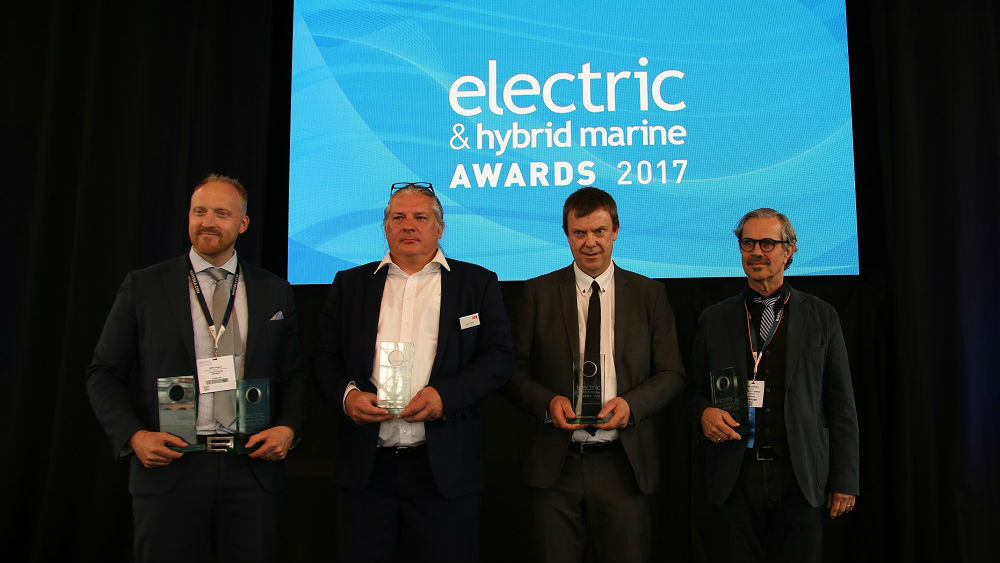 The fourth annual Electric & Hybrid Marine Awards were announced in Amsterdam this week, highlighting a range of innovative vessels and the people and equipment that made them possible.
An international jury of 42 maritime journalists, marine industry experts and academics from 20 countries decided the winners in each of the five categories: Supplier of the Year, Innovation of the Year, Chief Engineer of the Year, Propulsion System Manufacturer of the Year and Electric & Hybrid Propulsion System of the Year.
The Supplier of the Year award went to Corvus Energy, for the third consecutive year, with 80 percent of the judges awarding the company full marks. The panel was impressed by Corvus Energy's business performance over the last 12 months, with the company posting an 87 percent revenue increase, with 30 percent of expenses related to R&D.
Other major factors contributing to Corvus Energy's success in this category came from it winning contracts for the supply and sale of 17 new Orca Energy Storage System (ESS), totaling over 9MW in energy storage, and signing a 10-year agreement to provide service and maintenance for the world's largest hybrid ferry fleet, operated by Scandlines.
Judges also recognized the impact of its appointment of a new European managing director, Willie Wagen, formally Wärtsilä's head of market innovation, as well as the success of its expanded Orca ESS production line, which received $342,000 in non-repayable funding from the National Council of Canada Industrial Research Assistance Program to support its continued development.
Corvus also won the Innovation of the Year category for its Orca ESS. Compared to Corvus Energy's previous AT6700 ESS, the price per kWh is reduced by 50 percent from $1,300kWh to $650kWh, and represents a 50 percent decrease in volume – an Orca ESS module measures 420x163x590mm while the AT6700 ESS module measures 330x378x615mm, making it 11 percent lighter.
Judges rewarded Corvus Energy for achieving an 80 percent reduction in connection and commissioning times, with the Ocra ESS (125kWh/22 modules) requiring less than two hours compared to the AT6700 ESS (140kWh/21 modules), which required approximately eight hours.
The Chief Engineer of the Year award was presented to Tor Øyvin Aa, managing director of Norwegian shipbuilding company Brødrene Aa. Representing the first time an engineer from a shipbuilder has won this award, Tor Øyvin Aa was lauded by the judges for his successful leadership during the development of the Vision of the Fjords diesel-electric sightseeing catamaran, which was delivered to operator The Fjords in July 2016 – just 14 months after Brødrene Aa's design concept was selected for development.
Despite having no prior experience building hybrid vessels, it was Tor Øyvin Aa who proposed the vessel's diesel-electric propulsion setup, which allows Vision of the Fjords to be propelled solely by battery power while operating in the UNESCO World Heritage Site section of Norway's Naeroyfjord and on diesel power when outside of it.
ABB scooped Propulsion System Manufacturer of the Year, winning the award for the third time in four years. In the last 12 months, the company recorded a three percent increase in electrification products revenues, with a base order growth of two percent and a net income of $724 million, up from $500 million the previous year.
2016 also saw ABB launch its new Azipod XL podded electric propulsion unit, and deliver four Azipod propulsion units, totaling 52MW of electric power, from Helsinki to shipyards in South Korea, where they were then fitted to an LNG tanker an arctic oil tanker.
The judges were impressed by the company's sustainable shipping ambitions after it had signed a formal agreement with Wuchang Ship Building Group to develop greener ships in China's icebreaking and cruise sectors.
The Electric & Hybrid Propulsion System of the Year award went to BB Green, an electric commuter ferry delivered in June 2016 to operator Green City Ferries in Stockholm, Sweden. Officially the world's first all-electric air-supported vessel (ASV), BB Green is powered by a 200kWh lithium titanate oxide energy storage system from Leclanché; two 280kW permanent magnet electric motors from Echandia Marine; and a Volvo Penta IPS pod propulsion system specially configured for an electric driveline.
Developed by SES Europe and built by BJB/Latitude Yachts in Riga, Latvia, the 25-ton vessel is capable of high speed operation for more than 30 minutes with a 14 nautical mile (26 kilometer) range. It's also the world's fastest ASV, operating at a speed of 30 knots.
BB Green was developed over a 44-month period and built to a $3.5 million budget funded in part by the European Union's Seventh Framework Programme of the European Commission. It is co-funded by eight organizations (SSPA, SES Europe, Diab, Lloyd's Register, Aqualiner, Leclanché, Echandia Marine and BJB/Latitude Yachts).
To illustrate its eco-friendly credentials, if BB Green was a diesel-powered vessel, it would use about 4.8 liters of fuel per nautical mile while traveling at 30 knots, while a similar vessel with a conventional hull would use 10-11 liters per nautical mile.