Eco-Activists Target Walmart Heiress' Yacht Twice in Two Months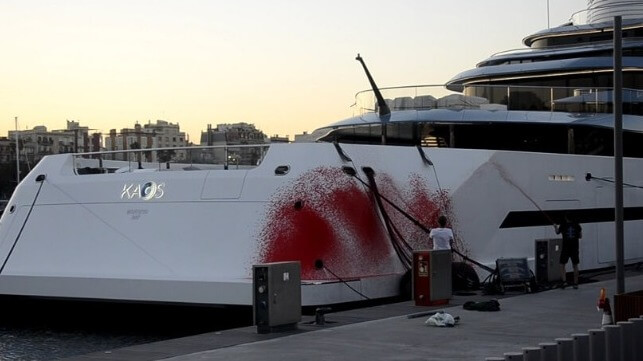 Walmart heiress Nancy Walton Laurie's megayacht has become a favorite target for eco-activists. In less than 60 days, the 360-foot Oceanco yacht has been vandalized twice by paint-spraying environmentalists from two different groups.
The ultra-luxurious yacht, Kaos, was ordered by the Emir of Qatar and was delivered as the Jubilee in 2017. Walton Laurie, heiress to the multibillion-dollar fortune of Walmart founder Sam Walton, purchased it the following year for about $300 million. In recent months, Kaos and her crew have operated between Barcelona, Ibiza, Monaco and other landmark ports of the Mediterranean yachting circuit, according to AIS data provided by Pole Star.
On July 16, a small group from the Spanish social and environmental action group Futuro Vegetal went to Kaos' berth on the Avinguda de les Andanes, a public promenade at the heart of Ibiza's waterfront. The team brought fire extinguishers filled with paint, and they sprayed the yacht's stern with a spatter of red and black. The Kaos' crew attempted to hose off the damage, and members of the civil guard detained the two activists involved.
After the paint attack, Kaos called at a well-known yacht shipyard at La Ciotat, France. When the repair work was done, she returned to a favorite berth in Barcelona, according to AIS data. However, her experiences with vandalism were not yet over.
At 0700 hours last Friday, activists with Extinction Rebellion accessed Marina Port Vell, an ultra-luxury yacht harbor in the La Barceloneta neighborhood. Carrying large fire extinguishers filled with red paint, they managed to get past the marina's ISPS-qualified security system to reach the pier. When they got to the Kaos, they unloaded the fire extinguishers onto the vessel's starboard quarter, then held up a banner to broadcast their views. They appear to have had ample time within the secure facility: the group reported that they were arrested at about 0900, two hours after the operation began.
Extinction Rebellion published a list of policy demands after the action, including a proposal to confiscate the world's 6,000 largest yachts and a plan to tax billionaires for a climate mitigation fund.