E.U. Supports French Floating Wind Projects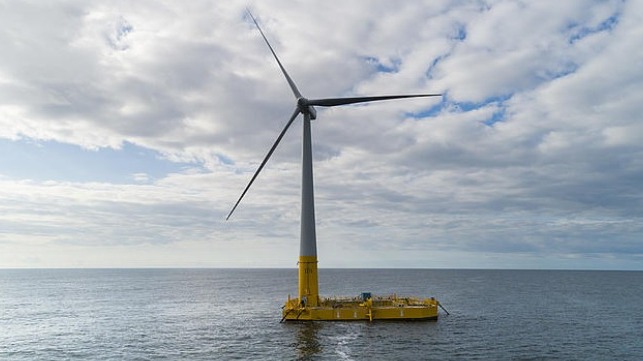 The European Commission has agreed to provide aid to four French floating wind demonstration projects.
The Groix Belle Ile project will be located in the Atlantic Ocean, while the other three projects (Golf du Lion, Eolmed and Provence Grand Large) will be located in the Mediterranean Sea. Each will consist of three or four turbines and will have a total installed capacity of 24MW.
Each of the four demonstration wind farms will use a particular combination of turbine, floater and cables. The objective of the public support is to test the different technological solutions before deploying them on a larger scale.
The demonstration wind farms will receive both investment aid and operating aid.
The E.U. Renewable Energy Directive established targets for all Member States' shares of renewable energy sources in gross final energy consumption by 2020. For France that target is 23 percent, and the projects aim help reach that target.
Last year, France has installed its first floating wind turbine off Saint-Nazaire, built by Ideol. The company was awarded a €2.5 million ($2.8 million) grant from the E.U. for the Leadfloat project. The project aims to facilitate the mass production of Ideol's floating foundation with a view to prepare commercial-scale wind farms of 500+ MW.
U.S. Support for Floating Wind
Earlier this year, the U.S. Department of Energy announced up to $28 million in funding for a new floating offshore wind turbines via the Advanced Research Projects Agency-Energy (ARPA-E) program, Aerodynamic Turbines, Lighter and Afloat, with Nautical Technologies and Integrated Servo-control (ATLANTIS).
Much of the United States' best offshore wind resources are found in waters too deep for traditional offshore wind turbines fixed to the sea floor. Floating turbines introduce a new set of technical challenges, however. To be successful, ATLANTIS projects will require design approaches that maximize power to weight ratios while maintaining or increasing turbine efficiency.
Global Offshore Wind
Navigant Research anticipates that over 69GW of new offshore wind capacity will be installed between 2018 and 2027, exceeding 100GW of operating capacity by 2030.
The International Energy Agency estimates renewable marine energy potential at 20,000 to 90,000 terawatts/hour, enough to meet the world's needs (approximately 16,000 terawatts/hour).