Dutch Salvors Begin Tow of Fire-Ravaged Car Carrier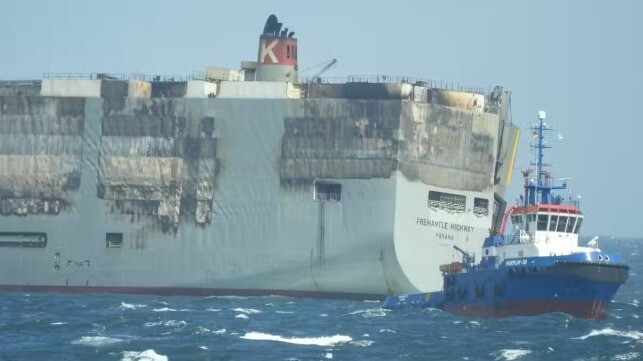 On Sunday afternoon, the fire aboard the stricken car carrier Fremantle Highway finally subsided enough that the burned-out vessel ceased smoking, allowing salvors to begin a towing operation to bring the hulk to a safe location for damage control and inspection.
The salvage team established a secure tow connection to the vessel's stern on Friday, linking up to the tug Fairplay 30. On Sunday, taking advantage of reduced smoke, salvors made up a tow line to a second tug. The car carrier is now under way with both tugs pulling at about three knots, accompanied by the Kustwacht response vessel Guardian and the pollution control vessel Arca.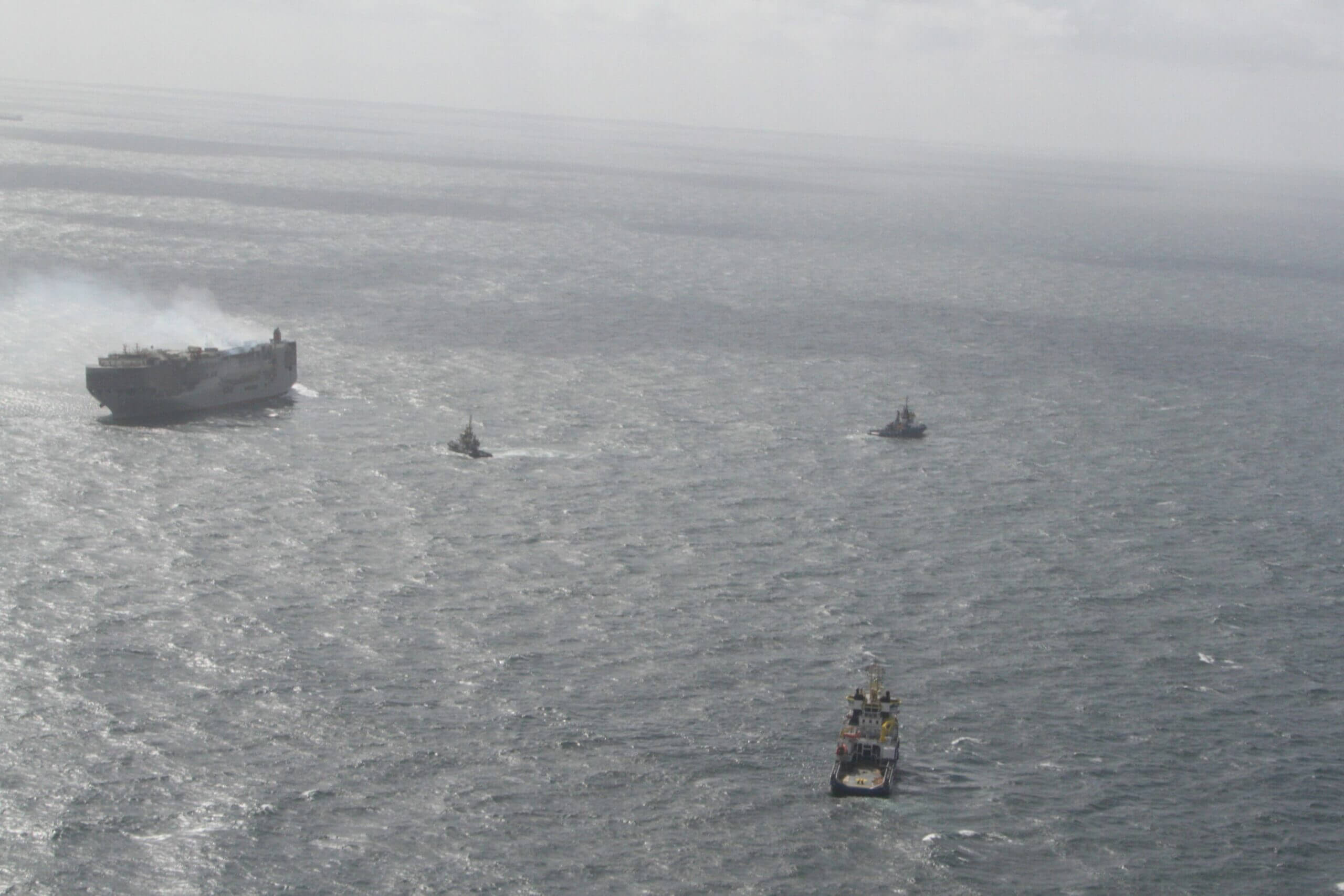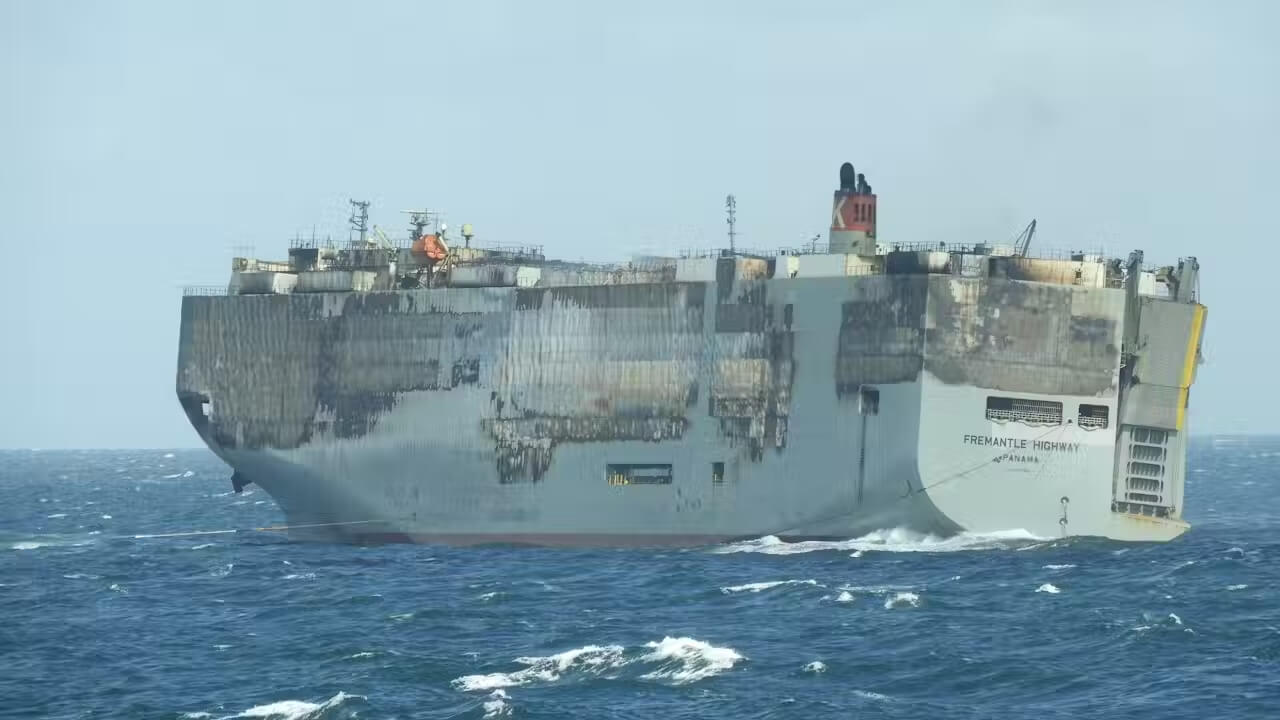 Salvors wait for the smoke to die out, July 30 (top) and finally begin the tow (bottom) (Kustwacht)
Once the vessel has been towed to the new temporary location, the tugs will remain connected for control and position-keeping. A periodic airborne watch will monitor for any possible pollution. So far, no releases of oil have been observed.
As soon as the situation aboard the ship allows for a safe tow into port, Dutch maritime authorities would like to bring it alongside a pier to complete salvage operations. The relocation in progress on Sunday is an interim step in the process.
The operation would have started on Saturday, but the wind direction and the continued smoke from the vessel prevented it. The orientation of the tow would have put the tugs in the path of the smoke, increasing risk to the health and safety of the tug crews. The same southwest wind continued Sunday; it was only the eventual cessation of the smoke that allowed the team to proceed.
Based on photos provided by the first responders, the Fremantle Highway has taken on a slight list to starboard. The patterns of paint burn-off cover most of the port side and half of the starboard side, indicating that the fire swept through most of the ship's car decks above the main deck level, from bow to stern. Photos taken Saturday show heavy smoke pouring from the aft-most upper decks, but the paint largely intact; by Sunday afternoon, the paint in this location was gone, indicating that the fire continued to burn at high temperature as late as Saturday night.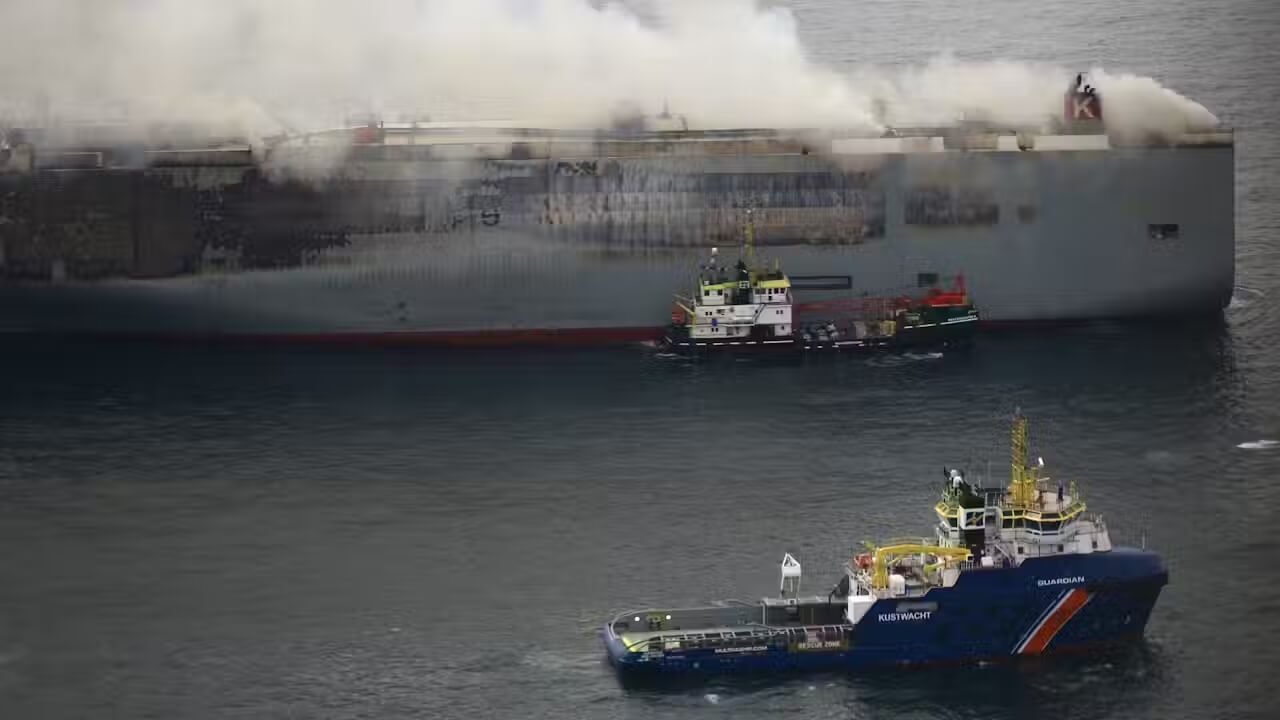 Smoke pours from the stern of the Fremantle Highway, July 29 (Kustwacht)
A thorough evaluation of the extent of the damage will have to await a boarding and inspection of the vessel.
The cause of the fire is not yet known for certain, but the presence of electric vehicles has sparked a minor controversy. Initial reports indicated that there were 25 electric cars aboard out of 2,857 total; in an updated report Friday, K Line clarified that there were 498 electric vehicles aboard out of 3,783 total.
Owner Shoei Kisen Kaisha told the Dutch broadcaster NOS that "there is a good chance that the fire started with electric cars."