DryShips Uses Newfound Liquidity to Buy VLGCs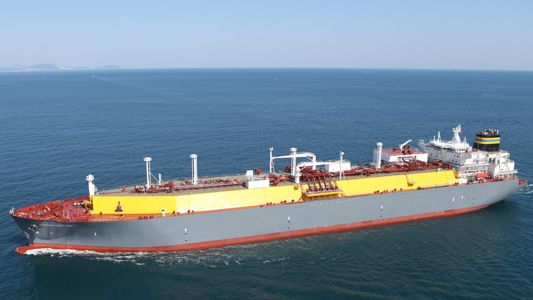 DryShips, investor George Economou's publicly-listed bulker firm, announced Thursday that it would make a new foray into gas carriers with a $334 million deal for up to four newbuild VLGCs. The arrangement appears to mirror DryShips' venture into offshore oil and gas ten years ago, when it bought 30 percent of the Economou-controlled drillship operator Ocean Rig.
Under the new VLGC agreement, DryShips would buy a series of Panamax LPG carriers from the Economou-owned management firm TMS Cardiff Gas, and TMS would operate the ships under long-term charter to Gunvor and Shell. Hyundai Heavy Industries is scheduled to deliver all four vessels by the end of the year.
"Having the option to acquire a fleet of four sister ships of very high specifications, ready for delivery in the near term and chartered to major industry players, provides us with a unique opportunity to enter this new segment," Economou said. "If [DryShips] elects to exercise any of its options, each acquisition will be highly accretive to [its] earnings and will provide visible and stable cash flow at above market rates."
Last summer, DryShips appeared on the brink of bankruptcy, burdened with debt and undercut by low spot rates. However, it reached several major financial agreements over the course of the past two months, which may give it the liquidity to act on new investment opportunities. In December, the Economou-controlled firm Sifnos Shareholders refinanced $85 million in Dryships' bank debts by extending a new $200 million revolving credit facility. The deal leaves Economou – Dryships' CEO and chairman – holding about $150 million of DryShips' existing debts, secured by almost all of DryShips' current and future assets.
In addition, DryShips recently made arrangements to sell up to $300 million in common stock to the previously-unknown firm Kalani Investments Limited, with the pace of sales dictated by business needs. Economou forecast DryShip's intentions to use these funds to buy vessels in announcing the sale. "With available liquidity in excess of $120 million we are now in a position to commence the process of re-building the Company's fleet and earnings capacity and pursuing investments in various shipping segments as they arise," he said in a statement.
The sale gives DryShips new flexibility, but it has already diluted existing shareholders' positions by over 90 percent: as of December, Kalani Investments held more than 30 million out of a total of 33 million Dryships shares.