Dr. Nikos Mikelis Honored by Indian Ship Recycling Union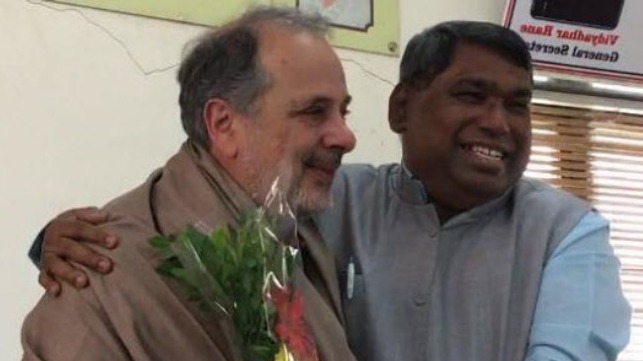 Dr. Nikos Mikelis, non-executive director of GMS, has been honored by India's ship recycling workers for his contribution to workers' safety over the last decade.
Mikelis has been instrumental in supporting the voluntary implementation of the Hong Kong International Convention on the Safe and Environmentally Sound Recycling of Ships. The the Indian government is in the process of acceding to Hong Kong Convention, but already 77 out of 120 ship recycling facilities in Alang have voluntarily complied to the requirements of the Convention.
On February 26 during the visit of the fact-finding mission of the European Communities Shipowners Associations (ECSA) to the office of the ship recycling workers' union in Alang, General Secretary of ASSRGWA Vidyadhar Rane bestowed the honor on behalf of India's ship recycling workers to Mikelis for the work he has done. ASSRGWA is the Alang Sosiya Ship Recycling & General Workers Association, which is the registered trade union representing 17,800 industry workers.
"I was delighted to have been honored by the recycling workers union (ASSRGWA)," said Mikelis on his return to the U.K. " I cannot ask for more."
During this second fact-finding mission by ECSA, the group of 20 people spent three days in Alang visiting rerolling mills, an integrated steel mill, nine recycling facilities, the workers training center, the labor housing colony, the office of the workers' union and the Red Cross hospital. Eight out of the nine yards visited are already compliant with Hong Kong Convention. Seven have been issued with Statements of Compliance (SOC) by ClassNK. One yard had a SOC by RINA, and one yard was in the process of obtaining its SOC.
"Eight of the nine facilities we visited were very impressive, and although I had been in Alang a year ago, I was truly surprised to see the further improvements that have taken place in that time," said Mikelis. "In fact thinking about it, I have become a little concerned because what I witnessed was a number of facilities having gone well beyond the standards of Hong Kong Convention and my concern is whether this will be sustainable in the long term.
"A number of the yards have purchased expensive cranes that can lift 200MT of blocks from the intertidal zone and deposit them onto the concrete impermeable area. They have also concreted 100 percent of the facilities' surface. These are certainly not requirements of Hong Kong Convention, and I just hope that competition between the ship recyclers, fueled by some of the leading shipowners who regularly recycle ships now in Alang, will not lead to financial losses and disappointment for the recyclers in the longer term."
Founded in 1992 in the U.S., GMS is the world's largest buyer of ships and offshore units for recycling.