DP World Injects $35 Million Into Expansion at Port of Santos, Brazil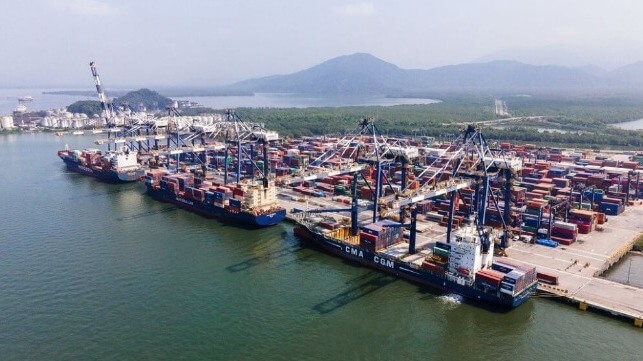 DP World has announced a $35 million investment to expand and modernize its facilities at the Port of Santos, Brazil's busiest seaport.
The expansion is expected to increase the port's annual movement capacity from 1.2 million TEU to 1.4 million TEU. The quay size will also be expanded from 1100 meters to 1300 meters. According to DP World, the project aims to ensure that the port capacity remains ahead of the growing demand.
The Santos terminal presents a huge expansion opportunity, according to DP World. It occupies 845,000 square meters, with an additional 130,000 square meters available for development.
This expansion marks DP World's third round of investment since it began operations in Brazil in July 2013. To date, DP World has invested more than $577 million in modernizing and expandin at the Port of Santos.
The terminal is strategically located with access to land, road and rail transport, thus enabling large-scale multi-purpose operations. This explains why the Port of Santos is also home to extensive cellulose pulp operations, with the expansion project set to increase the capacity of the cellulose export facility from 3.6 million tons to 5.4 million tons.
"Investing in the Port of Santos is a calculated move that reflects the port's position as a crucial artery for transportation and logistics in the region. We have a strong advantage in that the port's location - with surplus area and rail access - provides the opportunity to expand capacity," said Fabio Siccherino, CEO of DP World Santos.
Last month, Santos Port Authority (SPA) released the 2022 financial results showing marked increase in its profitability. The SPA ended the year with the best result in history, recording a net profit of $106 million, an increase of 66.3 percent over 2021.
The Port of Santos' positive performance was attributed to the port's constant search for efficiency, with optimized new leases.
In December, the government of Brazil rescinded its earlier plans to privatize the Port of Santos.