Downed C-2A Greyhound Found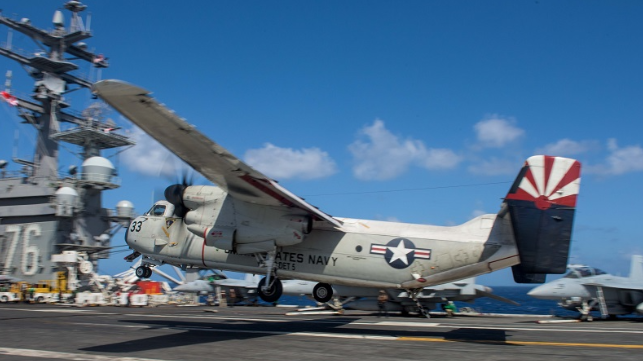 A U.S. Navy salvage team has located the C-2A Greyhound aircraft that crashed into the Philippine Sea en route to USS Ronald Reagan, on November 22 last year.
The team has located the plane at a depth of about 18,500 feet, making the planned salvage the deepest recovery attempt of an aircraft to date. In the coming weeks, the team will return to the site with a side-scan-sonar and remote operated vehicle (ROV) to map the debris field and attach heavy lines for lifting the aircraft to the surface.
"Despite very challenging conditions, every effort will be made to recover the aircraft and our fallen Sailors," said the U.S. Navy in a statement.
Assigned to Fleet Logistics Support Squadron (VRC 30) forward deployed to Japan, the C-2A aircraft was carrying 11 crew and passengers when it crashed. The aircraft was conducting a routine transport flight carrying passengers and cargo from Marine Corps Air Station Iwakuni to USS Ronald Reagan.
Eight people were recovered immediately by U.S. Navy Helicopter Sea Combat Squadron (HSC 12). For the next three days, USS Ronald Reagan led combined search and rescue for three Sailors with the Japan Maritime Self Defense Force (JMSDF), covering nearly 1,000 square nautical miles before ending the search.
An investigation into the cause of the crash is underway. At the time of the crash, Japanese defense minister Itsunori Onodera told media that the U.S. military suspects that engine trouble may have been a factor.
The twin-engine Grumman C-2A Greyhound cargo aircraft design dates back to the mid-1960s, and its primary mission is to fly up to 10,000 pounds of goods at a time onto the decks of the Navy's carriers. The original fleet was replaced with new models in 1987-1990, and a service life extension will allow the current airframes to continue service until 2027. The Navy has selected the V-22 Osprey to replace the aging C-2A fleet, and deliveries will begin in 2020.
Sailors gather for a memorial service in honor of Aviation Boatswain's Mate (Equipment) Airman Matthew Chialastri, Lt. Steven Combs and Aviation Ordnanceman Airman Apprentice Bryan Grosso in the hangar bay of the aircraft carrier USS Ronald Reagan (CVN 76). Chialastri, Combs and Grosso were aboard a C-2A Greyhound from Fleet Logistics Support Squadron (VRC) 30 when it crashed on November 22 during a routine transport flight carrying passengers and cargo from Marine Corps Air Station Iwakuni to USS Ronald Reagan.