DMT Marine Equipment Delivers Custom Winch to Western Towboat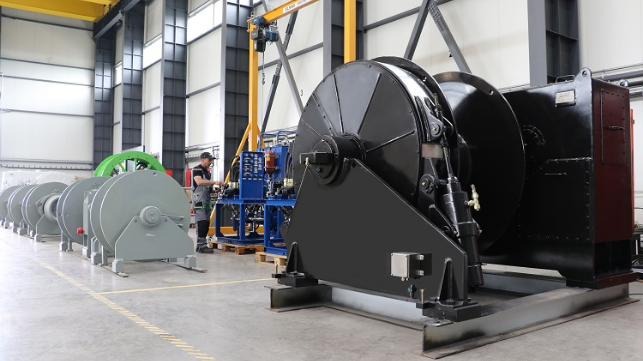 DMT Marine Equipment has entered the U.S. market with the delivery of a custom-built hawser winch for leading U.S. tug and barge operator, Western Towboat Co.
"The winch we received was everything we could have hoped for," said Russell Shrewsbury, Vice President of Western Towboat. "The attention to detail in what we wanted with the winch was there, and the craftsmanship is fantastic. We run a bit of a different setup on our tugs, and we were really able to custom tailor this winch using DMT's design with some of our own designs as well as our third party hydraulic specialist who helps us with our builds here at our shipyard. The communication was great for being half a world apart and multiple parties involved."
Western Towboat offers ocean towing, harbor towing, ship assist, container and transportation services with a modern fleet of 1,000-5,000 HP Z-Drive and conventional tugs. The company operates vessels from Puget Sound to the Aleutian Islands, from Arctic Alaska to the Hawaiian Islands and to the Panama Canal.
DMT Marine's account manager, Sander van der Gulik, said: "The dedicated craftsmen at Western Towboat knew exactly what they wanted, based on knowledge gained from years of experience. We could deliver, because our winches are 100 percent custom-designed. Our customers can rely on DMT's equipment on board of their vessels, since it's built to withstand the harshest marine conditions."
The cooperation between Western Towboat and DMT was outstanding, he said, and Shrewsbury agrees. "I can see our relationship with DMT continuing on as we strive to advance our fleet and continue to keep building new tugs. We would like to partner with DMT in the future for sure," he said.
"I am hoping in a couple years we will be adding another ship assist tug to our fleet, and if the winch we purchased performs as well as it looks, I can see a few more being built for our company in the future."
DMT has been serving a variety of companies around the world with project-based assignments for over 17 years. "At DMT, we are able to produce equipment of different capacities that can be installed in any desired location," says van der Gulik. "Our escort towing winches can be built using single, double, triple, waterfall or in-line drum arrangements. They can have an open or close foundation, as well as a grooved or LeBus drum. These are complex products that come with advanced control features such as video monitoring systems, connection packs, constant tensioning systems, oil level measuring systems and many more features."
The company's references include tugs, towboats, barges, offshore support vessels and cable-laying vessels. "Mostly, in our work, we like to challenge normality and enjoy finding new solutions to improve our customers' lives," says van der Gulik. "By following a lifelong learning strategy, we constantly improve our products and services, and therefore, we are always ready to offer new and efficient solutions to our customers and partners.
"We have become one of the most reliable suppliers of quality marine winches and naval equipment in the world."